This is the fourth in a series of features on the 2016 NFL Draft, position by position. Today's position: Offensive Line. The Jets' OL roster synopsis is followed by five players considered top candidates at the position, plus two "sleeper" picks who could be available when the Jets select in Rounds 3-7.
With the D'Brickashaw Ferguson retirement episode ending with Thursday's news conference in the Atlantic Health Jets Training Center auditorium and the weekend trade for Broncos T Ryan Clady, the Jets' line
Center — Nick Mangold is now the gray eminence on the line now that his 2006 draftmate Ferguson goes to the sideline, and he shows no signs of slowing down after being named to his seventh Pro Bowl. One more and he ties Winston Hill for most All-Star berths in franchise history. Wes Johnson and Dakota Dozier are both listed as guards but both backed up Mangold when he had to come off the field for a few plays in '15.
Guard — Starters James Carpenter on the left and Brian Winters on the right both return. Willie Colon, who opened last season as the RG starter but finished it on IR, says he wants to go around one more time but remains a free agent. Jarvis Harrison, last year's fifth-round rookie, also comes back, and Craig Watts was signed to a reserve/future deal. Johnson and Dozier factor in here also.
Tackle — Clady comes into the Green & White fold with six 16-start seasons for the Broncos and Breno Giacomini has three, the last two with the Jets at RT. Brent Qvale, who made his pro debut as mostly a third TE last season, is back, as is Ben Ijalana, who re-signed Thursday. Lawrence Okoye and Sean Hickey, both at 6'6" and 305, are OL candidates with tackle size.
Top Five O-Linemen in the Draft**
T LAREMY TUNSIL, OLE MISS
Tackles as usual dominate the OL list, and Tunsil (6'5", 310) dominates the tackles. Shown in the photo atop this story from his pro day, he had been the No. 1 overall choice on many value boards until the blockbuster Rams-Titans trade. He's not perfect for a couple of reasons — even though he's a three-year LT starter for the Rebels, he's never started for a full season (28 games) due to multiple injuries and an NCAA suspension (receiving improper benefits). Yet his smooth style and great production (two sacks allowed in those 28 games) are quite beguiling at the top of this year's draft.
T RONNIE STANLEY, NOTRE DAME
Stanley (6'6", 312) wanted to win a national championship so instead of entering the draft last year, he stayed at South Bend to try for the gold ring. The Irish fell short, losing to Ohio State in the Fiesta Bowl, 44-28, but Stanley will be fine as a potential top-10 draft pick. The NFLDraftScout.com guys compare him to just-retired Jets LT D'Brickashaw Ferguson, writing that both are "dancing bears who use their natural athleticism and length to shut down speed" but that Stanley, like Brick, may need a year or two "to refine his technique and improve his functional strength" and rise to the top of the NFL's tackle talent.
T TAYLOR DECKER, OHIO STATE
Decker (6'7", 310) has great length, not to mention a great tats (see photo below from a Combine drill) and a great long streak of 42 consecutive starts for the Buckeyes, the last 28 on the left side and one of those starts for OSU's national title team in '14. He didn't lift well at the Combine (20 reps in the benchpress) or his pro day (21 reps) and can struggle with speed rushers. But he knows how to use his strength, particularly in the vaunted Ohio State ground game that, in the past three seasons, has averaged 6.1 yards/rush and 273 rush yards/game.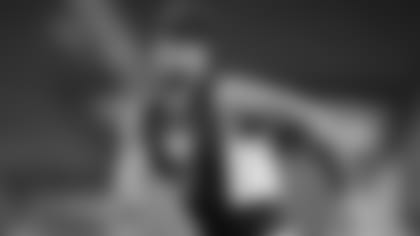 T JACK CONKLIN, MICHIGAN STATE
It's been a while since the Spartans have had an offensive lineman drafted in Round 1. Does Tony Mandarich in 1989 ring a bell? Conklin (6'6", 308) looks to be the next one, checking in high in the second half of Round 1 on many draft analysts' mocks, meaning right around the Jets' 20th pick, if they're interested. Conklin's not an extraordinary athlete but he's fast enough (his 5.00 seconds in the 40 was fourth-best among O-linemen at the Combine) and as a redshirt junior he was a big contributor as MSU reached the national semifinals on New Year's Eve.
G CODY WHITEHAIR, KANSAS STATE
Whitehair (6'4", 301) is the top guard on just about everyone's list. A redshirt senior, he was a 50-game starter for the Wildcats, at left tackle the past two seasons but also at RT and at G. He was also a senior captain. And in February he was one of the top 3-cone performers among O-linemen at the last several Combines (7.32 seconds). One AFC scout has said Whitehair is probably an NFL guard "but he might be able to play all five positions if needed."
T GERMAIN IFEDI, TEXAS A&M
Ifedi (6'6", 324) isn't a sleeper but we forced him into this category because, as Rich Cimini of ESPN New York suggested earlier this week, the Jets might be interested in drafting the Texas A&M right tackle for a possible flip to the left side after Clady's Jets tenure is done. Ifedi has three years as a starter, two at RT, under his belt as an Aggie before coming out as a redshirt junior. His 36" arms were tied for second-longest among all players at this year's Combine. Despite that and his size, some scouts see him as a guard. And most value boards we've seen don't have him going until Round 2 or 3.
G JOSHUA GARNETT, STANFORD
Garnett (6'4", 312) started most of the games in his four Cardinal seasons, was a Stanford captain as a senior, won the Outland last year as the nation's top interior lineman, and as a freshman dominated the 2012 Lawry's Beef Bowl by inhaling seven prime ribs. What could be the downside? One report said he had trouble getting out to the linebacker level and maybe isn't the run game monster one would expect. But a season of NFL strength work and training tables should do wonders.