As the Jets enter their final week of training camp, the competition remains fierce and tight end Zach Sudfeld continues his fight to stick with the Green & White beyond the summer. The former undrafted free agent who suffered an ACL injury last year, furthered his case against Washington with three catches for 39 yards including a 19-yard touchdown reception from quarterback Bryce Petty.
"It was a great feeling to be able to come back from injury last year, just to be out there, get into a rhythm and score a touchdown," he said after Sunday's practice.
Sudfeld played against his brother Nate, who is a rookie quarterback on the Redskins, for the first time in their professional careers. Needless to say, the second preseason game for both teams was a big day for the Sudfeld family from Santa Cruz, California.
"My mom had a Jets shirt and a Redskins shirt cut in half, and she sowed them together. When we were on offense, she wore a No. 44 Jets jersey and then she threw on a No. 2 Redskins jersey when Nate was on offense," he said.
Nate, a sixth-round pick from Indiana, went on to throw the game-winning touchdown pass in the final minute to overtake his big brother's team, 22-18.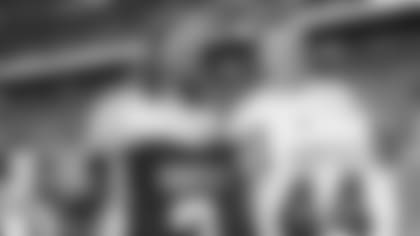 "I'm glad that it's over, so I don't have to play against him again. Obviously he's my brother, I'm rooting for him and really want him to succeed, but as a Jet, I don't want him to succeed against us," Sudfeld said. "It was a surreal experience. I didn't know whether to be excited or upset, so I was just trying to focus on what I had to do in the game."
Friday was a roller coaster of emotions for the 6'7", 260-pound tight end who fumbled the football late in the fourth quarter after an 18-yard reception from Petty.
"I had the fumble and that's pretty devastating. You just need to put the ball away. I got a little too loose with it, so it's something that you learn from," Sudfeld said. "You're glad that it happened in preseason, so you can go back and work on it in practice, and hopefully never let it happen again."
Sudfeld, who entered camp No. 3 on the tight end depth chart, has four receptions in the preseason and he's hoping he can make some contributions on Brant Boyer's special teams unit.
"You really never know where the coaches are with the depths charts, so you just work on improving your craft and let the chips fall where they may," he said. "Hopefully, I can be utilized in whatever capacity here with the offense or special teams and just be ready to go whenever I'm called."