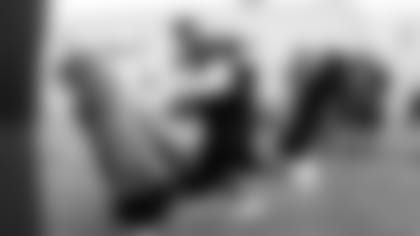 The thought of another season hasn't diminished defensive lineman Steve McLendon's confidence in his own abilities, or his passion for the game one bit. In fact, it's done quite the opposite.
"It feels amazing man. I was looking at it, and going into my 10th year on the field and being able to still feel good, it's been a blessing," he said. "It's so amazing just to be out here with these guys, to fly around and to compete. That's the biggest thing for me, I'm still able to compete at a high level and to be able to run with these young guys. Man, I love it."
Competing at a high level is exactly what McLendon has done with the Green & White so far. In his two seasons with the Jets, the 6'3", 310-pound run-stuffer racked up 3.5 sacks and 1.5 sacks respectively. And as far as fresh faces go, two players McLendon will be able to "run with" this season are the Jets' third- and sixth-round picks Nathan Shepherd and Folorunso Fatukasi.
Whether a player is coming in as a rookie or getting ready to take the next steps as a veteran leader, McLendon believes there should be one mindset heading into this season.
"Everybody wants to win. Everybody wants to play. So I tell these guys in our room — have the mind of a champion," he said. "You have to believe in yourself first. You don't need anyone else to believe in you. You need just to believe in you. If you believe in yourself, you're gonna make yourself that much better."
Along with setting an example with his actions on the field and inside the locker room, McLendon has had no shortage of wise words for the current 90-man roster heading into the final stages of offseason workouts.
"You're not here to just be a practice guy or squad guy, or just a camp body. You're here to make the 53-Man Roster, to contribute to the team, and to help us win and help us be successful," said McLendon, a former undrafted free agent out of Troy who was cut multiple times by the Steelers before becoming an NFL regular. "We're not waiting to win next year, we're not waiting to win the year after. We're trying to win right now."
Ten years at any profession will no doubt consider you an expert at your craft. And with that experience comes a responsibility to push those around you. For McLendon, he has no problem doing just that.
"Stay after them. Stay active with them," he said. "Help them with every little thing. Try to keep them up to speed on everything. Don't let them lack in any area. And do not let them slack either."