Tight end Austin Seferian-Jenkins says he'll be there for QB Bryce Petty. If things start breaking down around the second-year passer, Seferian-Jenkins wants to provide comfort.
"I'm just a security blanket. If he ever gets in trouble, just throw it my way and I'll catch it," ASJ said this week. "I'm always there for him."
Petty completed 23 balls in the Jets' 23-17 OT win over the San Francisco 49ers and five of them went to tight ends. Brandon Bostick had a pair of catches while Seferian-Jenkins set his season high with three receptions.
"Obviously I think I can make plays down the field, but we have Brandon Marshall, Quincy Enunwa, Devin Smith and Robby Anderson," Seferian-Jenkins said. "We have a lot of playmakers on the field, so when I have my opportunities, it's my job to do the most I can with them. With that being said, I'd love opportunities and I just want to help the team win. That means catching, blocking, whatever I can do."
Claimed off of waivers in late September from the Buccaneers, Seferian-Jenkins had a couple of receptions against the Steelers in Week 5. An ankle injury put him on the shelf for three weeks, but the 24-year-old is starting to make inroads.
"His role is he is getting more involved. Obviously, he's healthier now," said head coach Todd Bowles. "He's playing a lot more. He's getting more accustomed to the offense. We're getting more accustomed to him, so he's starting to show up more."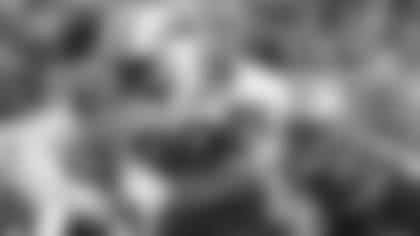 Petty used the 6'5", 262-pound TE to beat pressure in the first half against the 49ers as Seferian-Jenkins got five of his 12 yards after the catch. Later ASJ made a critical reception on a must-score drive with the Jets trailing 17-6, picking up 14 yards while trucking through defenders to get the visitors in the red zone.
"I was trying to score and get that first down. We had gotten backed up because we had that penalty and it was second-and-12, so I said we need to get this first down," he said. "I told the defense if they kept holding we would win, so I needed to hold up my end of the bargain. I had to make sure I did the most I can. I should've scored and broken another couple tackles, but I'm just happy we were able to get that drive going."
As he continues to be more of a factor in the passing game, Seferian-Jenkins wants to have an impact in another key area as well. Bowles says ASJ's blocking has gotten a lot better, but he needs to continue to show progress in that area.
"It's getting better, but it needs work. It's something I'm going to continue to work with and eventually I'll get to where I need to be," Seferian-Jenkins said. "It's a week-by-week thing and having a big impact in the game not only just catching the ball, but blocking as well. You just have to listen to your coaches and make sure you have your footwork, fundamentals and your technique right."
For the past couple of years, the Jets have primarily used their tight ends as inline blockers. Seferian-Jenkins, in his third season from Washington, is one of the young players the organization is excited to see develop. A big-bodied target, Seferian-Jenkins is a fluid route runner with natural hands. He can run after the catch and he's ready to help when called upon.
"It felt good to get out there and make some good catches for the team, just to split out wide and make some catches and first downs," he said. "It's nowhere near what I'm going to do, but it's a progression. We'll see what happens this week, but I'm sure it'll be a bigger week for me."