Tone Time has taken on a very different meaning this offseason.  In his attempt to return to the field, Santonio Holmes is undergoing a rigorous rehabilitation program here at the Atlantic Health Jets Training Center.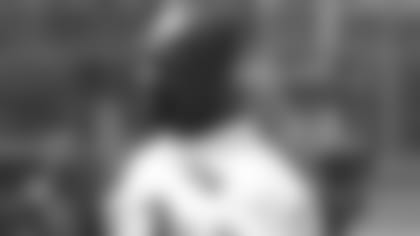 "Rehab starts at about 6:30 in the morning, walk in (the) hot tub, get in that whirlpool and then run on the treadmill for about five minutes and do my normal stretching activities inside the pool to keep my flexibility going," he told me in an exclusive 1-on-1 that will air on "Jets Talk LIVE" Wednesday afternoon.
"Once I'm out of the tubs, (I'm) sitting on the table for treatment for about 45 minutes to an hour.  Once treatments are done, we're going straight into rehab.  It's leg lifts and mobility, stabilization of the ankle.  It's tubing and it's pick-ups, it's pretty much everything you possibly wouldn't think of that I have to do to get myself back corrected and into the right form."
After Holmes started off the 2012 campaign in fine fashion, the Jets wideout suffered a Lisfranc injury to his left foot in a Week 4 loss to the San Francisco 49ers.
"A Lisfranc injury is a separation of the joints in your foot.  I actually had muscle tear and joint separation, so the injury process for me was a lot longer for some guys who say have a Grade 1 and the highest being a 4," he said.  "I suffered a Grade 4 injury where I had suffered a separation and ligament damage in my foot."
Two surgeries later, Holmes is mounting a comeback.  His body has been forever changed and he is accepting of the obstacles ahead.
"The first was to do the repairing and the second procedure this past March was to remove some hardware, taking out a plate and some screws that were placed in," he said of the two procedures.  "To this day, I still have two screws that are going to be permanently implanted in my foot.  Like I said it's a long process of recovering, but I'm up for the challenge."
Not even into a quarter of his seventh season when his left foot gave way, Holmes was on pace for a career-high 80 receptions and 1,088 yards (which would have been his second-highest total).  But everything changed on Sep. 20 at MetLife Stadium and Holmes has seen a lot of foot specialist Dr. Robert Anderson since then.
"Dr. Bob Anderson did a tremendous job of taking care of this injury and he's got me feeling like I'm ready to roll, but it's a recovery process that just takes time," he said.  "No matter how good it feels, it's more so now I have to get into the mindset of: Can I run again?  Can I plant?  Can I change directions?  Can I stop? Can I cut without having to feel these problems?
"Right now we're just going through as much of strengthening the body for what I had to lose for the eight months that I couldn't walk but using only one leg," he continued.  "We had to go in and focus on the left leg and strengthen all of the parts I didn't use."
Last week, Jets head coach Rex Ryan said that Holmes could start training camp on the Physically Unable to Perform List (PUP). 
"If it's put in place, hey you stick with it and you go with it until the time is right," Holmes said of the PUP designation.  "My target date is to be ready for training camp.  That's the only thing right now that I'm focused on is as much rehab as possible, getting back into running and conditioning and then be ready for training camp."
While Holmes has been on the field during OTAs, he has been relegated to a mentoring role.  When he is able to run routes again, No. 10 will be working with his third offensive coordinator in three years as Marty Mornhinweg has brought the West Coast system to the Jets. 
"You guys should be on the watch-out.   It's going to be a fun season for us this year.  The receivers are really loving the system.  The quarterbacks are excited to be able to step back and just throw the ball all over the field," Tone said.  "We definitely want to come together as a group and really rally behind our guys.  Having lost so many guys, we're going to rebuild, rebuild and rebuild, and hopefully get it together by the time training camp starts." 
The Jets QB competition is underway and Ryan is not close to naming a starter.  Holmes has experienced success with Mark Sanchez before and he has been impressed with the professional attitude of rookie passer Geno Smith.
"It's about the opportunity you get and are you going to be willing to step up and hit a home run on the first swing?  And I think that's his (Smith's) goal is to hit a home run his first time at bat.  I'm definitely looking forward to a great competition going into training camp between him and Sanchez," Holmes said.  "No matter who's throwing the football — we need the job to be done for the team and not just for one individual person."
The 29-year-old Holmes, who went back to Ohio State this spring and took psychology and world geography courses as he continues to work on his degree, is looking on the bright side.
"It's been challenging, but at the same time it gave my body and my mind an opportunity to rest and to embrace what happened to me.  After 20-odd years doing the same thing repeatedly year-in, year-out without taking a full break, it was bound for a time for the body to give way at some point," he said.  "And to deal with this injury right now, it was tough to watch my team suffer the way we did last season and knowing I couldn't be out there to help at any cost.  But right now, I'm only looking forward to getting better and being able to provide my services to this team."
"Jets Talk LIVE" will air on NewYorkJets.com at 1:45 PM Wednesday.  In addition to the Holmes interview, head coach Rex Ryan is scheduled to join me on set after the Jets' afternoon workout.