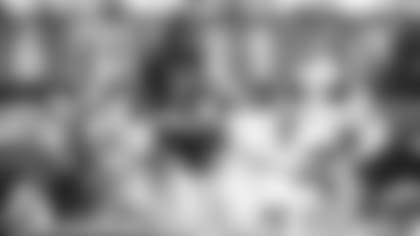 His contributions under the Jets' Christmas tree on Sunday weren't as large as a few of the interceptions or sacks by the defense or the opening-drive touchdown throw and catch. But Sam Ficken's kicks were huge gifts just the same to the Jets' pre-holiday 16-10 victory over Pittsburgh.
It was arguably Ficken's best game of his 14 as the Jets' placekicker. He had four placements and made them all. His 54-yard field goal in the second quarter was the longest of his pro career. His 37-yarder in the third frame gave back the lead to the Jets, a lead they never lost. And his 42-yarder with 3:11 to play forced the Steelers to go for a TD to win, instead of a FG to tie.
Add in his extra point and two kickoff touchbacks, and that completed the football placesettings at the Ficken holiday table.
"Yeah, that one feels really good," Ficken said of his game. "I'm sure a lot of people will be texting me. I don't know what happened to their playoff picture, but I'm sure I upset a few people. But that's OK."
Ficken was a secondary participant in the Jets-Steelers love-hate affair Sunday. The Jets, as well noted, had a number of players who spent time in the Pittsburgh organization — RB Le'Veon Bell, LT Kelvin Beachum, DL Steve McLendon and offensive assistant coach Hines Ward.
Ficken grew up in Indiana and doesn't count the Steelers among his five previous pro stops, but he was Penn State's kicker for four seasons. Some Nittany Lions fans were among the Steelers faithful who made it to MetLife Stadium that day and a few could be heard alternating words of encouragement and discouragement to Ficken.
Ficken took in the good, filtered out the bad, and was true on all his placements.
On the 54-yarder, he said, "That was right around the yardline we chose before the game where we were comfortable. There was a nice right-to-left wind, so I kind of played it right at the right upright and it carried back to the middle."
But just as key was the 42-yarder, which not only gave the Jets their 16-10 lead but just barely beat the block attempt of Minkah Fitzpatrick, who'd been probing the left side of the Green & White FG protection on the previous kicks. With only light wind on this one, Ficken hit the kick straight and the ball hugged a line all the way to inside the right upright.
"Yeah, that's a critical kick," he said. "The operation held up and it was an important one, so we're happy we could come through when we needed it."
Just in time for a holiday celebration right down the middle of the Jets' last week of practice in the 2019 season.