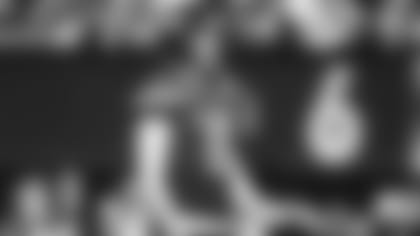 Sam Ficken is an optimist but he's also a realist. He knows his 15 games as the Jets' kicker weren't as good as they could've been. He has no doubt they'll get better if given the chance to return in 2020.
"I popped around quite a bit," Ficken told newyorkjets.com's Olivia Landis of his job search, "so to be able to come in and maintain the job for the full year, it's a step in the right direction. I would've liked to have a little bit better year percentage-wise, but in critical moments I came through when we needed and didn't cost the team a game."
We documented Ficken's big placements during the season. A quick review: He hit two go-ahead field goals in the last 4:05 vs. Miami, with the second, from 44 yards out at 0:00, providing the walkoff 22-21 win. He also supplied fourth-quarter FGs to keep opponents at bay in the wins over the Cowboys, Giants, Steelers and last week at Buffalo.
As for the bad part, he missed eight FGs, making him a 70.4% kicker (19-of-27) and also three extra points. But the errant kicks produced interesting Ficken traits. Seven of his missed FGs were from 45 yards or longer. And adding up all his misses, he got noticeable better as the game went on. In first halves he made only 40 of 63 possible placement points, a 63.5% rate. Not good. In second halves he converted 40 of 44 placement points, a 90.9% rate. Very good.
Another underrated part of Ficken's game was his kickoffs. His touchback rate wasn't high (29 of 62, 49%) but he put many of his kicks in play due to ST coordinator Brant Boyer's gameplan. In part this was due to Ficken's very good hangtimes — unofficially he averaged 4.20 seconds of hang per kickoff, the best by a Jets kicker since Nick Folk's 4.24 seconds in 2011. This led to opponents averaging 19.3 yards when they returned those kicks, third-best coverage in the NFL.
"The coverage guys did a heck of a job, and a little bit of that probably has to do with the hangtime on the kickoffs that don't become touchbacks," Ficken said. "That, coupled with where I'm putting the ball and disguising certain things, it opens up our opportunity to get down inside the 25."
Ficken knew competition was headed his way, and in fact the Jets quickly signed former Cowboys K Brett Maher (who began his NFL career as a Jets rookie camp tryout in 2013) to a reserve/futures deal. But he'll be ready soon to attack the offseason.
"I've been in the range of where you're not really sure what team you're on, where you're going to be," he told me as he packed up his locker the day after the Bills win. "Now that I have a full season under my belt, I feel a little more comfortable with being able to take a little bit of time off. I've been kicking twice a week, every week, for five years at least, so there really hasn't been a time where I could let the leg rest, I don't have to be super dialed in in January and February because last year I was trying to land on a team."
It was a crazy year, not just for Ficken but for the Jets as they tried to find someone to replace Pro Bowl K Jason Myers through the offseason and on past opening day. But as up and down as things were, the Ficken roller-coaster finished in a good place. "And," he said, positive as usual, "I'll use that as a platform for next year."