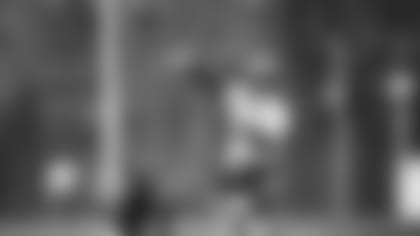 It wasn't the Jets' bye week and it wasn't "baggy day," but Sam Darnold's midweek news conference with Jets reporters took on some aspects of those days with some big-picture perspective on where the second-year QB was — as in a month ago after the primetime home shutout loss to New England — and where he's heading as the signal-caller trying to extend his team's three-game winning streak on Sunday against winless Cincinnati.
"I think for me, it wasn't the game obviously that I wanted," Darnold said, hearkening back to the Patriots pummeling. "I just played terribly. It was embarrassing for me to go out there and play that way. Really for me, the worst part was letting my teammates down.
"I think just coming back to work the next week and continuing to try to get better, that's the way I dealt with it and that's the way I'm going to continue to deal with games like that in the future. Hopefully they don't come up, but that's just how the game goes sometimes."
And that seems to be the way Sammy and the Jets played their way into their current hot streak. The twin Florida losses to the Jaguars and Dolphins followed, but even in those games there were periods of Darnold and the offense rising. But the signal-caller still had to deal with naysayers off of that three-game losing streak. How did he do it?
"Especially in this day and age, you can't avoid anything," he said of turning off (the TVs in the Jets' facility) and dropping out (of social media). "I just have a really close group of friends and a really tightknit family, and I'm going to continue to lean on them, and then great teammates and great coaches as well."
All of that got Darnold into this remarkable turnaround three-game win streak, during which the Jets have scored exactly 34 points, mostly on offense, in each game and won by a larger margin each time. With the win over the Raiders, he's coming off his fourth career 300-yard game, he has his accuracy up to 63.9% and his passer rating up to 86.3, and he's engineered 11 touchdown drives in the win streak, the Jets' most in a three-game span since late 2011.
Head coach Adam Gase is impressed with this latest chapter in helping write Darnold's book as a pro QB.
"A lot of the guys I've been around have been older players," Gase said. "I think those guys, they've been through a lot of different scars from the past that they know how to get through a lot of the stuff. It's the first time I've been through kind of a rough spell like that with a really young quarterback. I thought he handled it really well, considering [New England] was one of those games where you want to burn the tape, you want that thing eliminated from your résumé.
"So the fact that he handled it as well as he did, I'm sure it wasn't easy, never said anything to me, he just did a good job of putting his head down. But I'm sure that wasn't an easy thing to do for him."
One more Sam secret: Turn the first-personal-singular question into a first-person-plural answer.
"I think it just kind of shows how resilient our team can be," Darnold said his personal rebound from losing skid to winning skein. "I think we've shown it all year. I think we've done a lot better job the last few weeks of continuing the success we've had on some drives because games we were losing like Jacksonville and Miami, we put together some great drives and some not-so-great drives. So I think we've done a lot better job of sustaining success."
See Best Images from Wednesday's Practice at 1 Jets Drive