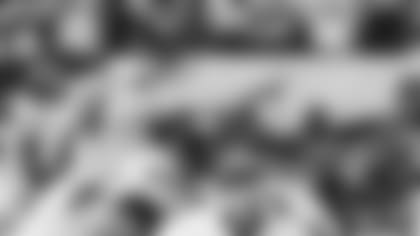 What a difference a Sam makes.
That could have been one of the tunes the Jets were humming to themselves — or singing at the tops of their lungs — following Darnold's long-awaited return from mononucleosis to lead the Jets on three first-half touchdown drives and one crucial fourth-quarter field goal march en route to their 24-22 win over the Cowboys for their first victory of the season.
"Yeah, I felt really good. I felt really good all day," Darnold said in the Jets' ebullient MetLife Stadium locker room after he put three games and four weeks of recovering from mono behind him by looking sharp for most of the day in completing 23 of 32 passes for 338 yards — the third 300-yard game of his career and his first in a win.
"It was good to hear the fans roar again and be out there on the field with my teammates. There's no better feeling. When you're out for so long like I was, you realize that this game is a privilege to play. It was just good to be back out there."
"It was amazing to have my brother back out there," WR Robby Anderson said, echoing the song lyrics and speaking for many of his teammates. "It makes a big difference."
Darnold seemed pretty happy to learn that his play-action throw down the deep middle for Robby Anderson that resulted in a 92-yard touchdown play was the longest pass in a home game in franchise history, not to mention the longest one-play "drive" in a home game in franchise history.
"The way the safety bit down on the run, I just knew I had to put it out there," he said of the play fake that sprung Anderson off a double move past CB Chidobe Awuzie and with plenty of room to elude diving S Jeff Heath. "Robby's one of the best, if not the best, at tracking the ball in the air in the NFL, and I knew I just had to put it out there in his vicinity and he would go out and catch it."
Head coach Adam Gase added that he got "the look" from Anderson following the Jets' fourth-down stop of the Cowboys before his and Sam's big play.
"I could see that Robby was giving me that look like 'you better call something deep here pretty soon,' " Gase said. "I felt like it was the right time."
That play was part of Sam's extremely sharp 13-of-18, 218-yard first half of passing, which also turned out to be the most gross passing yards by a Jets QB in the first half of a game since Pat Ryan (bet you didn't expect that name to pop up), who was on fire to the tune of 269 first-half yards in the Jets' 38-34 home win over Miami late in the 1988 season.
Possibly the best part of the second-year man's day is that it had erased the rough patch that the Jets had gone through in losing backup Trevor Siemian for the season and scuffling with Luke Falk at the controls. The Jets had gone through two road losses, at New England and Philadelphia, in which they scored one offensive TD total and 223 yards of offense combined.
There was no guarantee, even with Joe Namath and company in the house to be honored as members of the Jets' All-Time Team, that Darnold could turn the ship around that quickly. All he did was produce more offensive touchdowns (3) in the first half than the Jets had produced in the first four games (2), the important field goal drive that forced the Cowboys to need a TD and a two-point conversion just to tie. They only got six and then, after an onside-kick recovery, Darnold got to execute the Jets' first kneeldowns of the season.
"I don't know why," the QB said of seemingly having no rust in his return to beat back America's Team. "I think it was just a really good week of practice and studying and obviously a really good game plan going in. I'm just really, really excited for the guys in this locker room. We were starving for a win, and to come out here and do it in the fashion we did, the defense getting a huge stop on the two-point conversion, I wouldn't want it any other way."