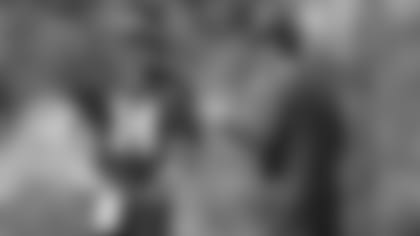 With a new head coach, a flurry of offseason additions and new uniforms, there's a fresh-start feeling at One Jets Drive.
On a warm, sunny spring morning, the Jets held their first practice since late December and their first under Adam Gase. Wednesday marked the first time Darnold took his new playbook to the field and although he admitted there was rust, he's excited about the potential of the group.
"I think it's really developed for our whole team, for our whole offense to flourish," Darnold said. "I think what Gregg is doing on the defensive side of the ball, I've already heard from the defensive guys, it's been amazing with all the things that he does. From our side with Coach Gase and all those coaches on that side of the ball, it's been awesome. Nothing but good things to come."
Overall, Darnold said Day 1 was good and hopes Day 2 is cleaner. The second-year signal caller felt like he was speeding through some of his motions as a result of first-day jitters.
"I know he's been itching to get out there, start throwing. This is really our first time to get together as a group," said Gase, who later added, "Right now, it's like he has to learn all this stuff first before we can get together and actually start throwing. Today, seeing him do it live in practice is so different than watching him in two games live and watching it on tape. He's got a legit ability to throw the football. It was a fun process to watch him kind of work through a lot of things mentally."
Even though the 22-year-old is learning his second offense in as many seasons, his primary focus is understanding what Gase expects from him. With a résumé that includes working with Peyton Manning, Jay Cutler, Ryan Tannehill and Brock Osweiler among others, Gase's work with different quarterback styles and personalities allows him to easily adapt to his new quarterback.
"He's kind of had it all and he's able to adjust very well and on the move," Darnold said. "It's going to be really exciting as we start actually getting into it, throwing routes and going up against some defenses whenever we can, just kind of see how we communicate, and it's going to be really important to communicate well to each other."
Despite the coach and the QB being football junkies, Darnold believes in order to fully understand Gase and his mindset between the white lines, the two have to talk about non-football related topics.
"We've been doing that a lot lately, talking about his family, talking about mine, just having those outside conversations that you wouldn't think that we'd have," Darnold said. "But I think it's important to really get to know someone you're going to be in communication with all year long. So I think those conversations are just as important right now as the football conversations. Obviously, as we get into the season and all that, those football conversations will be a lot easier."
See the Green & White on the Practice Field for the First Time in 2019 During Voluntary Minicamp