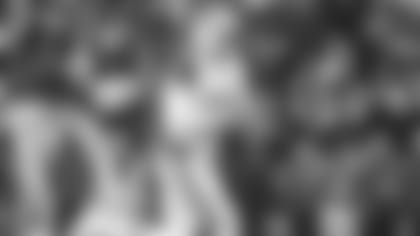 After waiting more than a month to return to the lineup, Jets rookie QB Sam Darnold played in only three snaps Sunday before exiting to the locker room for evaluation on his right foot. But Darnold would only miss a few snaps and ultimately orchestrated two fourth-quarter touchdown drives to lead the Green & White back for a dramatic come-from-behind 27-23 victory over Buffalo.
With ice water in his veins, Darnold was sensational in frigid temperatures. He excelled late with the game in his hands, setting up Eli McGuire's game-winning 1-yard touchdown with an extraordinary 37-yard pass down the sideline to Robby Anderson. And Darnold hit the speedster in stride despite Anderson being covered by one of the NFL's top cornerbacks in Tre'Davious White.
"As a kid, you always dream of converting two-minute drives and going down there and scoring," Darnold said of the nine-play, 61-yard march that culminated with McGuire punching it in from the 1 with 74 seconds remaining. "I think it's really satisfying to be able to put up seven points when we really only needed three. To be able to score a touchdown and put the ball in their hands at the end of the game was awesome."
Earlier in the final stanza, Darnold pulled off the play of his rookie season to date. Flushed out of the pocket, Darnold used his feet to escape the grasp of veteran DT Kyle Williams before coming all the way across the field and delivering a rope to Anderson for a game-tying touchdown.
"I saw that as he was chasing me, he tried to trip me up and he fell," Darnold said of Williams. "So I just tried to reverse fields and out leverage him and out leverage the defense and give our guys another chance to get open and Robby found a way."
That capped off a drive that got started when Darnold showcased his mobility on another completion, throwing on the money to Quincy Enunwa up the sideline for an 11-yard gain to convert a third-and-10.
"He's clutch," said safety Jamal Adams of Darnold, who finished 16-of-24 for 170 yards with one touchdown and one interception. "He came out and did what he did man, showing why he was drafted where we was drafted. He came out and executed."
Named the starter only a couple of hours before kickoff, Darnold had a scary opening against the Bills. On just his third play from scrimmage, there was a communication bust in the backfield. Darnold appeared to be looking for Isaiah Crowell, but the veteran back was not in place and the rookie signal caller promptly took off up the middle. Bills DE Trent Murphy grabbed a hold of Darnold and dragged him to the ground for a 9-yard gain. Just moments later, Darnold gingerly walked to the locker room with medical personnel.
"If it was the same thing that happened in Miami, I knew it wouldn't be smart to play on it," Darnold said of the foot strain he suffered against the Dolphins on Nov. 4. "I went in and got X-rays and it wasn't. It just so happened to be the same foot, but it was a different deal."
The 21-year-old Darnold wasn't out long. He ended up missing only one series and was back on the field bouncing around late in the first quarter. The Jets ran just 19 offensive plays in the first half with Darnold completing 4-of-6 for 41 yards. He had a couple of impressive third-down conversions on the visitors' second scoring possession including a gorgeous toss to Anderson along the sideline for a 25-yard gain.
Both Darnold and fellow rookie quarterback Josh Allen, taken four selections after the USC product in April's draft, were victimized by young mistakes. Turnover free early, Darnold made a costly miscue in the third quarter. Inside plus-territory, he was flushed outside of the pocket. Trying to make something out of nothing, Darnold sprinted to his right and tried to direct his targets to space. But instead a connection to TE Chris Herndon, Darnold was intercepted by Bills rookie LB Tremaine Edmunds.
"For me, I've kind of had a short-term memory my whole playing career," he said. "So sometimes it's a bad thing, but it's worked out more times than it hasn't. So for me, it's about having that short-term memory and going out there and slinging the ball around."
Not deterred, Darnold would get hot in the cold and lead the Jets to an improbable win. The six-game losing streak is over and young No. 14 took a large step Sunday.
"He played tough and gritty," said head coach Todd Bowles. "He gave up the ball earlier when we were in field goal range, which you can't do. But he came back and didn't waiver. He's very comfortable out there. He was smiling and having fun and we like to see him like that and he finished off drives for us."