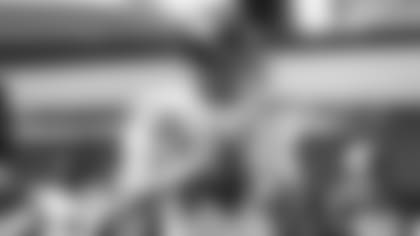 Game 2 of the 2020 season was in many ways a lot like Game 1 for the Jets, which had quarterback Sam Darnold dealing with a grimly realistic optimism for Game 3.
"We just lost a football game, so no one's jumping around and screaming," Darnold said of his locker room after the Jets fell to San Francisco, 31-13, in their home opener at MetLife Stadium on Sunday. "But it sucks. No one's yelling at each other. We understand we have to stay together. It's only our second game of the season. Obviously we didn't envision these two games going like this. But we've just got to keep our heads down, go to work, and get ready for a tough Indy team."
Before that, the Jets will do their usual post mortems after a loss. And while the solid defeats to the Bills and 49ers were similar, Darnold expressed perhaps a little optimism that some things worked somewhat the way they drew them up in the first half.
"I felt like we got in good rhythm moving the ball. It's just finishing in the red zone," he said. "I think it's about having consistent plays on second and third down, and then just continuing to move the chains. In the first half, we did a good job of that in the field but we've got to finish once we get in the red area."
A few comparisons show the difference between the first halves in the losses to the Bills and the 49ers. At Buffalo, the Jets opened with four punts (the first three of them 3-and-outs) and an interception and managed 27 yards of offense and 1-of-6 on third-down conversions.
At MetLife, the Jets' second and third drives went for six minutes each and produced a field goal and a fourth-and-1 loss on downs from the Niners 20.
But any momentum that built in that first half was dissipated in the first six series of the second half, when the Jets could mount nothing more than 23 yards and one first down on any one drive before stalling.
Darnold didn't use his amazing disappearing wideout group as an alibi, although he could have. Going into the game, Jamison Crowder joined rookie Denzel Mims on the sideline, both with hamstring issues. Then Breshad Perriman went out in the second quarter with an ankle sprain.
That might have dictated a larger role in the offense for TE Chris Herndon, but Herndon was targeted only four times and caught one 5-yard pass.
"I just think it's a matter of how the play worked out, whether he was covered or if I was pressured and had to get the ball out," the QB said. "There's certain things for us that we can't control, and for me it's making sure I stay on schedule and if I do get pressure, I've got to get the ball out of my hands. Some times we had some things dialed up for Chris and just couldn't get it to him."
Put it all together and you could say there was slight improvement for Sam and his offense from Game 1 to 2. Darnold's sacks went down from 3 to 1, his turnovers from 1 to none. But on the other hand, his four-game home winning streak from last year ended, and he didn't meet his 21 points of home offense by eight points, against a Niners team that lost DE Nick Bosa plus three more defenders during the game.
In other words, they'll need a lot more to stay in next Sunday's road game at Lucas Oil Stadium against the Colts.
"For one thing, we've got to get some guys healthy," Darnold said. "For another thing, there are some little details we'll be able to figure out as we watch tape of this game later tonight and tomorrow. We'll fix those things and address them on Tuesday, then Wednesday out at practice, I'm sure we'll run through them again and make sure we're all good on it."
That's imperative if Darnold and the Jets want to make sure that in their new math, 3 > 1 + 2.