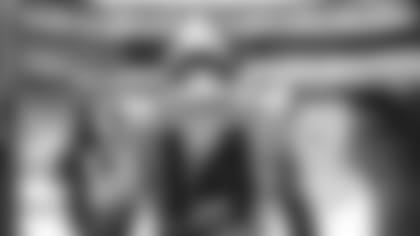 You couldn't have blamed Sam Darnold if he were a little down in the dumps these last days of August, after working in training camp behind a brand new offensive line in need of reps and chemistry and with a wide receiver group shedding injured bodies on a regular basis.
But no, when Darnold took the podium following the Jets' Green & White Practice at fans-less MetLife Stadium on Sunday, he was definitely feeling bullish after driving the first offense to a pair of touchdowns during key periods of the day's "second half."
"I think we just played better," Darnold said in comparing this practice to the less polished midweek scrimmage/practice at the Atlantic Health Jets Training Center. "The energy was really good, guys were ready to go. Yeah, it just felt better out there. Whether it's OTAs or training camp, it's usually kind of a struggle at first, but I feel like this second go-round is good.
"I missed a couple of throws at the end there, but we were able to finish it off with a touchdown, so it was a good drive and I think we're leaving here pretty happy with where we are."
Head coach Adam Gase had a similar take in comparing the two game-situation practices and also in Darnold's continuing development in his third year as this most unusual preseason continues its headlong rush toward Sept. 13 at Buffalo.
"I really think Sam is getting good, especially with if something's different and he's got to either get out of a play that I've called or a run-check or all those tiny things that last year that we might not even have asked him to do," Gase said. "Now it just seems so much smoother for him. It doesn't look like it's a stressful thing mentally for him, it's just he's reacting to things. He's got a plan what to go to, and instead of him standing there thinking about what he's going to do, it's just become second nature to him.
"At the end of that last series, the thing I really love is when things go bad, he can make plays. A couple times we turned guys loose and he scrambles outside the pocket, makes a play and keeps the drive alive. Those are things he's just going to keep getting better at."
Darnold's first TD strike came on the first series after the Jets came out of their locker rooms for the second half. He completed the No. 1 offense's drive against the No. 1 defense with a 15-yard back-shoulder throw that Le'Veon Bell snagged in the end zone against S Bennett Jackson.
For that aforementioned final drive of the day, Darnold led the first O against the second D to a late-game 12-play, 71-yard drive, in the middle of which came the game's two-minute warning with the score tied at 17-17. He found Jamison Crowder three times, twice for first downs, and also moved the chains on a third-and-4 scramble.
On first-and-goal at the 7, he overthrew Crowder left for a score, but then beat a blitz with a rollout right and hit a crossing Chris Hogan just over the goal line with CB Quincy Wilson trailing. On the drive, Darnold's passing line was 6-of-8 for 52 yards.
Darnold has had precious little on-field time this training camp throwing to veteran Breshad Perriman (knee), who's missed the last five practices, and second-round rookie Denzel Mims (hamstring), who's sat out from the first practice of camp Aug. 14. And Gase said today that "it looks like it'll be a couple of weeks" before Jeff Smith, who injured his shoulder Saturday, can return.
But the QB declined to express concern as opening day draws ever closer.
"We just need to clean up details," Darnold said. "We need to figure out just some things route-wise and for me, where my eyes need to be and just figure out some footwork stuff. Other than that, I feel we're ready to go. Some quick fixes, but we've got to be better on the details."