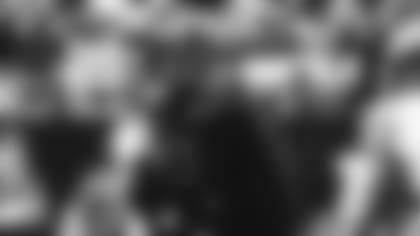 The Jets started to write a familiar story on Sunday as the offense started fast but stalled and gave up a 14-point lead. But this story had a different ending as Sam Darnold led the Jets to the second come-from-behind victory of his career as the Jets beat the Giants 34-27.
"I just tell myself to calm down, take deep breaths," said Darnold, who threw for 230 yards and one touchdown. "When I tell other guys to calm down, it calms me down, too. It's awesome to be able to talk to the guys. It's the first year in the system, it can be hard and I think for us, we're really starting to roll. This offense is really getting its rhythm and I'm excited where we can go the rest of the year."
The Jets found the end zone on their first two possessions after winning the coin toss and electing to receive. Darnold capped off a 13-play, 71-yard drive with his first rushing score of the season on a 2-yard read-option, which marked the first time since 2017 that the Green & White scored on their opening series in three straight games.
On the next possession, the second-year signal-caller led the group 50 yards on nine plays and WR Jamison Crowder found the end zone for the second time in as many games, extending the Jets' lead to 14-0. Crowder's 23-yard TD marked the first time since 2014 that the offense has scored in its first two drives and the first time at home since 2009.
"I think for me, I was really in control out there," Darnold said. "I think I did a lot better job of controlling myself, making sure I wasn't doing too much, but doing things that were in my control and staying within myself."
After a hot start, the offense totaled 3 yards during its next five possessions combined as the Giants fought back and took a 27-21 lead in the third quarter. The Jets O regained its first-quarter form and put up 13 points in three consecutive drives to put the game on ice. Sam Ficken hit a 53-yard field goal to cut the lead to three points and Le'Veon Bell found the end zone on a 1-yard run that put the Green & White on top 31-27. Bell's TD was set up by a pass interference call in the end zone as Giants rookie CB Deandre Baker was all over Robby Anderson. Their next drive, the 6'3", 225-pound Darnold connected with Demaryius Thomas on a 47-yard pitch-and-catch that set up a Ficken 35-yard field goal that extended the Jets' lead to 34-27.
"It was huge to be able to battle back like that because we showed it a little bit in the Dallas game, but we really hadn't shown that this year, the ability to battle back," Darnold said. "The fact that we did that, our defense got a couple great stops and at the end, the way our offensive line was able to run the football with Le'Veon and Bilal Powell, it was impressive."
Despite a compelling back-and-forth victory in the battle for the Big Apple, Adam Gase was happy his quarterback did not turn the ball over for the first time since Week 1.
"That's a big deal. It's been a couple weeks in a row where he's walked out of these games frustrated with the turnovers and missed opportunities," Gase said. "For him to play a game like that is valuable for his growth."
The Jets are now 2-7, but Darnold is remaining positive in the second half of the season.
"It's all about coming to work every single day and making sure that we have the right energy, positive mindset because we have a chance," he said. "If we win some games in a row, you never know. We're 2-7 now. It doesn't sound good, but we're a few wins away from getting to .500 and who knows after that. We still have hope and we believe. This team believes more than any squad out there. I'm just really happy for these guys and I think this is going to be really good momentum going forward."