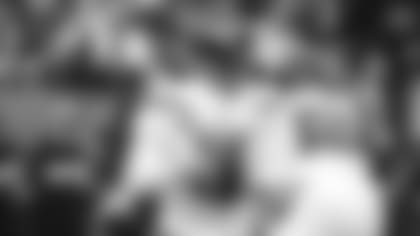 Entering Sunday's game in Cincinnati riding a three-game win streak, QB Sam Darnold and the Jets offense cooled off in a 22-6 loss to the Bengals. The Jets offense totaled 271 yards after averaging 365 yards a game in Weeks 10-12.
"We couldn't really get a rhythm," Darnold said. "It's hard to tell without looking at the tape. We'll get a chance to look at the tape tomorrow.
"It sucks to lose this game. It's just like any other game, though. When you lose, it' not fun, so we just have to watch the tape tomorrow and try to get better from this and learn from our mistakes."
Coming into the game, the Bengals allowed the most yards per game (166.4) on the ground. But on Sunday, the Jets threw the ball 31 more times than they ran it. Darnold attempted a career-high 48 passes and completed 28 for 239 yards, but the group's performance against the previously winless Bengals boiled down to penalties (10 for 106 yards) and execution.
"I think at the end of the day when you look at the penalties, those killed us," Darnold said. "The run game, I thought we came out smacking them. We had a really good run game to start. Once we got down, Coach Gase had to do what we have to do."
The Jets averaged 4 yards on their seven first-quarter rushes, but totaled 7 carries in the second half. Not coincidentally, the Green & White played from behind for three quarters after Andy Dalton hit Tyler Boyd for a 17-yard score to give Cincinnati a 7-3 lead at the end of the first quarter. Darnold, who was among the top 10 in the NFL in completion percentage, passing yards, passing touchdowns and passer rating in November, never found his groove. He was sacked four times, compared to five times in the last three weeks, and the offense was flagged seven times for 49 yards.
"I think, for us, it was too many penalties," Darnold said. "For me, I have to hit my guys, I have to be more accurate. I felt like we couldn't get into a rhythm and it hurt us.
"We didn't come out flat, that wasn't an issue for us. It was really just a matter of executing, which was the issue."
The Jets had two chunk plays called back, each of which could have sparked the offense but resulted in productive plays being nullified. In the second quarter, Bilal Powell's 23-yard catch-and-run on a screen pass was called back because of holding and Le'Veon Bell's 23-yard third-quarter run on third-and-14 was called back because of another holding infraction. In the third quarter, LT Kelvin Beachum was flagged for holding in the end zone, which resulted in a safety that extended the Bengals' lead to 19-6.
The Jets (4-8) will quickly refocus on the Dolphins, a team that beat them in Week 9 and is coming off a 37-31 win over the Eagles.
"I think it's just continuing to look at it one week at a time," Darnold said. "We lost this one. I think for us, it's about getting better and watching the tape and getting ready for our next opponent."