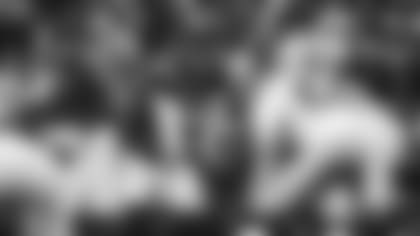 It's a fool's errand to proclaim a career or a season over after a three-game slump, and it's the same to declare individual or team success for the rest of time based on a three-game hot streak.
But the latter sure beats the former for creating a happy NFL locker room.
"It's high," Darnold said of the Jets' confidence following their 34-3 routing of the Oakland Raiders at MetLife Stadium today. "I think it started in practice, it starts with the week of preparation. We had a lot of confidence at the beginning of the season, even though the record didn't show it. We still had a ton of confidence going into all of those games.
"For us, especially as an offense, it's about executing and we've been doing that lately."
Darnold fortunately is not the type of young Southern California fellow to take the boo birds to heart after he was pronounced dead as a doornail after he returned from mono, beat Dallas, then lost three in a row to New England, Jacksonville and Miami, personally turning the ball over nine times in the process.
But even on the road vs. the Jags and 'Fins, Darnold was showing signs of first-drive/first-quarter life. And now he's on a three-game winning streak during which he's thrown seven TD passes — and run two more in himself — completed 65% of his throws and assembled a 117.2 passer rating.
And as the 22-year-old QB spoke with reporters in the Jets' MetLife Stadium dressing room, a small smile curled around his lips every once in a while. But he never lost his focus on the message at hand.
"It's just us coming to work every single day," Darnold said. "I know I've been saying it a lot but it's true. When we come to work and put really good days together throughout the week, we see results like this on Sundays, and for us it doesn't get old."
Such as Sam turning in the fourth 300-yard passing game of his career and his second-highest game rating at 127.8. And helping the team hang exactly 34 points up on the scoreboard for the third game in a row. That was the first time since the Brett Favre "era" of 2008 that the Jets scored 30-plus points in three straight games.
And how's this for a hot streak: With 31-point leads at Washington and against Oakland, this is the first time the Jets have held 30-point-plus leads in back-to-back games ... in franchise history.
It's not all about Darnold but a lot of it is. As RB Le'Veon Bell said, "I think he keeps on growing and growing. I continue to keep having to reflect on the fact that I've never played with a younger guy, so for me it's amazing seeing him, each and every day, every rep. The amount of plays he ran out of the pocket today, didn't force anything and just getting rid of the ball, throwing it out of bounds, that's growth. So him as a player, him as a leader, he can only get better from here."
"I think with Sam, he's really getting comfortable, getting his rhythm," said WR Robby Anderson. "He's really catching his stride."
The comfort could be seen in Darnold keeping from 4 yards out for the Jets' first TD early in the second, tucking the ball, bulling his neck and relentlessly finding the goal line.
It showed big-time in the third quarter in his composure on the spin-around looper to TE Ryan Griffin for Griff's 1-yard "walk-in" TD. And on the reverse fleaflicker and the 30-yard completion to Anderson on the Oakland 9 — "If I put the ball out a little further, I think Robby scores" — and then on the 1-yard laser to Robby running right toward the end zone sideline — "at that point I was just trying to make a play.
It even showed afterwards when Darnold addressed one of the Jets' early setbacks, when he feathered a ball to WR Demaryius Thomas, who took it in for the 8-yard score on the opening drive, only to lose the TD when a booth review of the scoring play detected TE Daniel Brown being guilty of offensive pass interference.
The Jets wound up settling for a field goal. And so Darnold and the Green & White saw a franchise record of five consecutive games scoring a TD on their opening drive get taken away from them and the streak downsized to a franchise-record-tying four in a row.
"I think for us, we got into rhythm early, and I don't think we really stopped," Darnold said. "But yeah, it was a bummer it got called back. But Sam went out there and nailed a field goal and did his job."
Darnold wasn't talking in the athletic third person there. He was referring to K Sam Ficken. But he could've been. Sam Darnold spent another week and another game doing his job. And the Jets are suddenly streaking toward winless Cincinnati next Sunday.