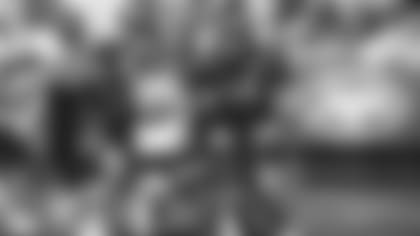 Forty-three days out from the Jets' season opener, quarterback Sam Darnold is already chomping at the bit.
"First of all, I'm ready to roll," said Darnold following the team's first padded practice. "Obviously, there's a lot of practices left in training camp and leading up to the preseason and leading up to Week 1 against Buffalo, but I'm ready to roll. I'm excited. I think this team is poised to do great things this year. It really starts one week at a time, one day at a time. So, that's our mindset right now.
"For me, I have higher expectations than anyone for myself. It's just about going up there, executing and finding completions every single day."
The second-year signal-caller has been sharp early in camp. The 6'3" 225-pounder spread the ball around on Friday with deep throws to RB-WR Ty Montgomery, WR Robby Anderson (TD) and two to WR Quincy Enunwa, one of which was a touchdown. And the unit kept its foot on the gas Saturday despite not striking downfield as often.
"What we want to do with our offense, our No. 1 thing is attack," Darnold said. "Don't let the defense get settled in, make them feel uncomfortable every single day. That's our goal, that's what we're going to do whether it's with tempo or pushing the ball down the field. It's just keeping the defense on their toes, making sure they have no idea what's coming and going about it that way. We're getting great feedback from our defense, too, in terms of what we're doing."
Even though training camp is in its infancy, Darnold's teammates have noticed a difference in his play. Running back Bilal Powell said he's making quicker decisions and taking control of the huddle and Montgomery said he can tell it's going to be a great year for his quarterback.
Gase added, "He's 22 years old and he can throw the piss out of the ball."
Darnold is poised to take a sophomore jump on the field, but perhaps his biggest progression will come off of it. After a year in the NFL, the 2018 No. 3 overall pick better understands his teammates, which will help him evolve as a leader. He knows what buttons to push based on "what sets the fire underneath the guy," which Gase believes can only benefit Darnold.
"Him being comfortable in those situations, that's so valuable for us as an organization because that's a step you have to take to become that leader that we're looking for," Gase said. "He just has natural leadership ability where he doesn't even try and guys will respond to him."