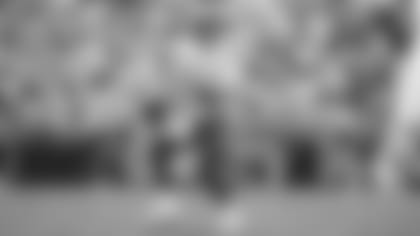 It was good for the Jets, with Halloween just around the corner, to dispatch one of their personal poltergeists, that being their NFL-long 30 consecutive games without scoring an opening-drive touchdown dating back to the 2017 midseason.
But the Green & White didn't do enough after striding 93 yards to take that 7-6 lead on Sam Darnold's first touchdown pass of the day to TE Ryan Griffin to force that ghostly losing skid, now at six losses in the first seven games, back into the ether. And so Darnold was feeling tricked, not treated.
"We just didn't execute the way we wanted to after that drive," Darnold said following the Jets' 29-15 loss to the Jaguars in which he assembled two outstanding touchdown drives ... and 11 other shorter, less impressive, no-points series. "It was a really good drive to start the game. And for whatever reason, we lost rhythm and didn't execute."
The difficult part for the Jets and their fans was that Darnold and his offense at times looked a lot better than they did on Monday night against New England. For instance, on MNF Darnold was 11-for-32 passing for 86 yards and a 3.6 passer rating. Against the Jaguars he was 21-of-30 for 218 yards and a 73.3 rating.
But Darnold also threw three interceptions compared to his four picks vs. the Patriots and was sacked eight times by the Jaguars to once by the Pats. And while the Jets' blockers and receivers and even head coach Adam Gase, who criticized his own playcalling, had a hand in Sam's struggles in northern Florida, Darnold typically wasn't passing the buck.
The one thing no doubt really eating him was that after his bloc of five games — the last three last year and this year's Buffalo and Dallas games — was being used to show his progress as an NFL passer, these last two games told him he had much work to do.
"Yeah, two of my worst games ever," he said of the Patriots and Jaguars losses. "So it's hard, but at the same time I've just got to come back to work next week."
As for the mic-ed Darnold "I'm seeing ghosts" clip that ESPN aired on Monday night and went viral, the Jaguars fans were all over that, with signs in the stands and even an airplane with a banner making reference to the clip. But Sam shrugged that off as a non-factor vs. the Jags.
"Well, it is what it is. It didn't affect me," he said. "It's just a silly thing for social media and fans to be able to try to use it against you. But for me, I was just playing bad because I did. I just wasn't executing out there, I wasn't playing the balls where they needed to be. It wasn't about that, though."
No doubt the Dolphins fans will try to ride that ghost train a little next week. And then there's Darnold's physical issues. His toe with the nail removed and well-padded Sunday didn't appear to affect him and the subject didn't come up after the game. Then during the game he sprained his left thumb, but he said, "It didn't have any effect on me."
Instead, Darnold suggested it was a case of mind over matter for him to get back to the upward trends of those five recent games and away from the downward spiral of the last two. Some of his own urgency was captured by his remark to Jets radio announcer Bob Wischusen's postgame locker room question about whether taking an offense and a team on his back can be one of the hardest parts of his role as the Jets' QB.
"It's part of the job," Darnold said. "I'm more pissed off about how I've played these past couple of weeks. It's embarrassing and it's not my style of football."
See Best Images from the Road Trip to Jacksonville