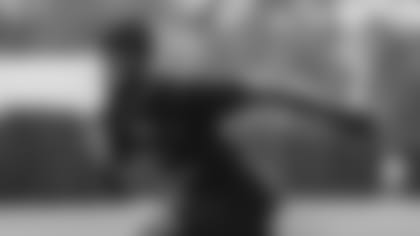 If Marcus Maye is still reeling from seeing his safetymate and friend Jamal Adams traded to Seattle almost three weeks ago, he's not showing it at all.
"It's a big loss, it's tough," Maye told SNY and team reporters today, the day before he and his current teammates take the field for the first practice of 2020 training camp. "But I know we've got guys on this roster who can play well, guys that can step up in different situations. So it's going to take a group effort but we've got the guys in this building and this locker room that can get the job done."
Maye is one of those guys. After surviving an injury-filled 2018, he moved back in alongside Adams last season and made a bunch of big plays, such as the game-saving end-zone pass breakup against Pittsburgh, while also showing that the term "injury-prone" doesn't apply to him — Maye was the only Jet last year, with 1,089 snaps, to log more than 1,000 scrimmage plays on offense or defense and, with 1,127 total snaps, to put in more than 1,000 snaps including special teams.
"Being healthy, not having to rehab this whole offseason, I was able to train, work out, so I had a pretty good time this offseason," he said. "I'm feeling good, healthy, ready to hit the ground."
Secondary coach Dennard Wilson has said he can't wait to see what Maye is bringing to the table this season.
"Marcus right now is starting to hit his stride," Wilson said. "When you watch, toward the second half to the end of last season, he was one of our best players on defense. He put it together, he thoroughly understood, he started to take more ownership.
"Marcus is a leader in the back end. He loves football, he's willing to do anything and everything for the team to have success. I love coaching the young man, I love being around him, I love everything he stands for. I think going forward, you'll see the best of him."
And Maye said that, even without "the Prez" alongside him in the deep middle and no C.J. Mosley in front of him after the MLB opted out of the season due to COVID-19 concerns, you'll see the best of the Green & White D as well.
"It's the same Jets defense you're going to get — a ton of energy, the same aggressiveness. We're not going to change how we're going to go about things at all," he said.
"We've still got the same defensive coordinator, the same position coaches. How we go is how we go. Those guys are not here, but we're not going to change anything about us."