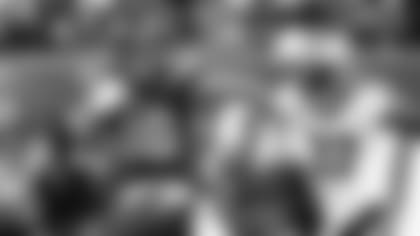 Hail, hail, the gang's all here, and Jets tight end Ryan Griffin was in the middle of two such jam-packed lists.
The first list Griffin mentioned, while discussing how he handles the Jets' current QB situation in which four different players have taken snaps this year, made reference to a list his father has ben keeping on him for a number of years.
"My dad has a tally running, 20-plus starting quarterbacks in nine years," Griffin said. "I know you can't worry about what's happening at quarterback, you really can't worry about what's happening at other positions, period. If you want to be a mainstay in this league, you've got to perform no matter who's performing beside you or behind you. You've just got to do your job. That's been my mind-state and I'm gong to keep it."
But let's back up a bit, Ryan. Why does your dad do that?
"Ever since I was drafted — and I was in [Chiefs TE Travis] Kelce's class — he's just been so jealous of all these other guys who get a mainstay at quarterback whereas I've had a revolving door," he said. "But I wouldn't have it any other way, to be honest. I've had great teammates coming up. It's been fun."
And it's been a fairly productive stay with the Jets. Arriving in 2019 after six seasons with Houston, he had 34 catches and five touchdowns his first season, and this season he's on pace to be targeted the most times since his career year of 2016, when he had 74 targets, 50 catches and 442 yards for the Texans.
Even while Griffin has helped bring the TE back into the Jets offense — his next TD catch will be his eighth as a Jet, which would make him the highest-scoring Jets TE in the last decade or since Dustin Keller's most productive seasons — it's been somewhat lonely out on the turf as first Tyler Kroft went on Injured Reserve with a chest injury last month and Trevon Wesco has been out the past two games with an ankle injury.
But Wesco was listed as fully practicing Wednesday.
"Yeah, I miss my guy Trevon," Griffin said. "I think we have a lot of similarities coming out from the tight end position. ... It's just fun playing with him. He's a physical guy, but he's got some ballskills as well. So It's fun talking with him out on the field together and working with him. I'm looking forward to him getting back."
And with Kroft cleared to return to practice this week, suddenly the position could be regaining its full complement of blockers and catchers soon. And if that happens Sunday, so much the better for QB Zach Wilson and the Jets' offense against the Dolphins' zero blitz.
"Yeah, I think the ball's got to come out, right? So they're bringing one more than we can block and the ball's got to come out on time, accurately, and then everybody has to be on the same page because if you mess up one block, then you've got two free runners coming at the quarterback. And the receivers have to be on the same page as well. If they're running off route, then nowhere to go with the ball with quarterback. So everybody's got to be as one, 11 guys on the same page, and get that ball out quick."
And Griffin's optimistic that the offensive hospital list will turn into a few victory party lists over the last month of this season.
"I feel like we're young on offense," he said. "Inconsistency has been a mainstay for us all year. But that comes with the youth and inexperience we have, especially with the injuries we came in with last week. You never like to take a step back, but we can learn from it for sure and we're looking forward to doing that and putting out a better offensive unit this week."
See the Top Practice Images from Wednesday of Dolphins Week at 1 Jets Drive