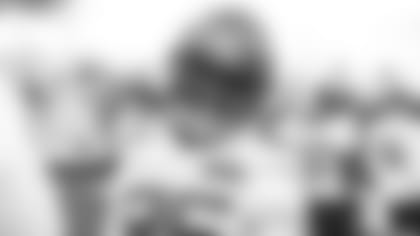 Israel Abanikanda is less about status-quo than he is about status-grow. And while he continues his maturation process, he likes to prove, to himself and others, that he's on the right track, that he's becoming his own man.
He still likes to reflect on his high school career, when he bypassed the kind of sports in Brooklyn for football.
"It was kind of a hard process," Abanikanda said during the Jets' recent rookie minicamp, "because everybody didn't really believe in me. A lot of people doubted. 'You can't play football and go to the NFL from Brooklyn, New York.' But I felt I could show them."
From Abraham Lincoln HS it was on to Pitt, which has been and continues to be a developer of NFL-ready players and stars, particularly at Abanikanda's position of running back. "Izzy" really appreciated his three seasons under HC Pat Narduzzi.
"Coach Narduzzi really made us men on and off the field," he said. "He uses a different type of coaching style. He can be hard on you on the field, but then off the field he can tell you what you need to get better or even life lessons. 'Duzzi's just a real man, a standup guy."
Abanikanda could have remained at Pitt for 2023, but he had a particular reason for deciding to enter the NFL draft of two weeks ago, when the Jets selected him in the fifth round. It had a lot to do with his eruption in his third season as a dynamic college RB who totaled 1,431 rushing yards and scored 21 touchdowns in 11 games.
As his Pitt and now his Jets teammate, tackle Carter Warren said of him, "He was amazing. I knew as soon as I opened up that lane, he was going to hit the hole."
"Ever since I was young, I played against older kids, older players," he said. "I felt this past year that the game started slowing down in a way. So I felt like for me to be a man on and off the field, I needed to better advance myself. I felt like it was that time."
On the one hand, it might have seemed as if the Jets didn't need another dasher like Abanikanda, what with Michael Carter, Breece Hall and Bam Knight already in the RBs room, not to mention guest appearances by WR Mecole Hardman Jr., who often went in motion and exploded out of jet sweeps and bubble screens for big yardage with the Chiefs.
But setting aside Hardman's 4.33 speed in the 40, with Abanikanda's 4.45 speed (at Pitt's pro day) combined with Hall's 4.39, Carter's 4.50 and Knight's 4.53, the Jets have assembled arguably the fastest backfield in their history. Now can it mesh with new QB Aaron Rodgers and new OC Nathaniel Hackett and become one of their most effective? And can Izzy find his niche and make it his own, as he did in Brooklyn and at Pitt? He said he's starting over in some ways, yet he's closer than ever to reaching his potential.
"It feels like I'm back at freshman year at college," Abanikanda said. "I'm getting ready for a long season, ready to work with my new teammates, get my respect, and show them that I can [make an] impact as well."
See the top photos of the 2023 Jets Rookies on the field for the first time.