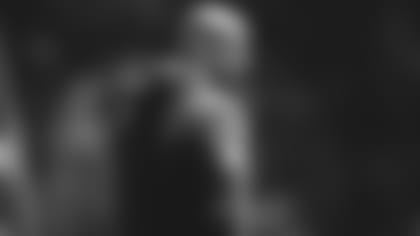 With a new head coach and his staff, new schemes of offense and defense and new opportunities, the Jets have had an excellent turnout this week to kick off the team's voluntary organized team activities (OTAs).
"It's been great," Head Coach Robert Saleh said on Thursday morning in a Zoom call with reporters. "I think we're well over 80 and it's been fantastic. The guys working want to be here. I think it goes for most teams, guys understand and they want to put in the work. They've gone a long time without football. We've had great collaboration from the staff and player reps, everything has been up to date and it has been very productive."
He added: "I told the guys no one makes the team in OTAs. You might grab our attention, but at the end of day, when pads come on is when it gets real."
Saleh was back at the Jets Atlantic Training Center in Florham Park, NJ, after Wednesday evening's trip into Manhattan to catch the Knicks' NBA playoff game against the Atlanta Hawks at Madison Square Garden. It was his first visit to what is called "The World's Most Famous Arena," and he was impressed.
"It was awesome," Saleh said. "Obviously, the Garden lived up to its reputation. From an outsider looking in, it was all you hear about the Garden. I've talked about it before, New York fans are passionate, they love their home teams. They're rabid and it's awesome. It comes from absolute love for their teams, but like everything else in this world you have to earn it. The Knicks have done a phenomenal job rebuilding. We're excited to earn that response and light up MetLife Stadium."
During his session with the media prior to the team's third OTA, Saleh was asked about NFL Network's report that the Jets had hired Matt Burke to a game-management role. Brian Shields, in his sixth year with the club, is the director of football analytics and some of his responsibilities include research and data analysis for in-game decision making.
"We are gathering as many scenarios as we can," Saleh said of the team's approach. "I'll just go through his [Shields'] work week. Really it's just sitting down with me and his analytics crew and going over scenarios and everything that happened over the last few years. And asking me what would you decide in this situation and I give my answer and all right, here's what the book would have said.
"Whatever intangible, we have a discussion covering a few of those a day. During work weeks, when we have situational practices, it's coming up with different situations and sitting down with me and the staff, trying to create situations that are real-life applications to football. Then on gameday, being [up] in the box and keeping us ahead of schedule. Stuff like, 'hey we crossed the 50 coach, it's four-down territory.' From there it's up to me to process all the information he gives me, process the external information that the book doesn't give you -- weather, are we playing well -- what's going on that the book won't cover. Going through all the exercises and having him with his wealth of experience."
Here are a couple of quick hits from Saleh's presser:
• On Zach Wilson: "He's relentless in terms of wanting knowledge, in terms of study. It's interesting watching him watch tape, what he can pick. He has a world of horsepower in his mind and he's not afraid to use it. He looks good, his arm's live."
• On C.J. Mosley (who opted out last season): "He looks good. Anytime you have a person who played football at a high level, the leadership he provides is always a benefit and you never want to say no to that."
• On the prospect of acquiring a veteran cornerback: "Right now, the focus is completely on the guys we have. We're excited about the group we have, we really are. We will cross that bridge when we get to that bridge. The easy answer is to bring in a veteran, but he'd probably eat up reps, which keeps us from seeing the young guys."
• On which players have been vaccinated: "We'll keep that in-house. We've done several seminars for the players with education on each vaccine, what the pros are, what the cons are, if there are any. It still comes down to personal choice, right now, it's about players and individuals gathering information to make the best decision for themselves."