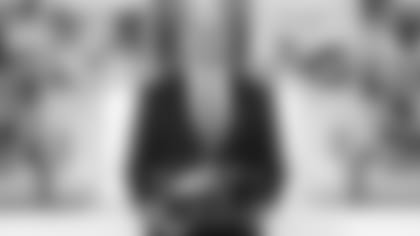 Robert Saleh made his first public remarks on Thursday as the Jets' new head coach, and he made it perhaps surprisingly clear that from the outset, even after his first virtual and then face-to-face interviews with the Jets' brain trust of CEO Christopher Johnson, president Hymie Elhai and GM Joe Douglas, he knew the Green & White was the team for him.
"I come from a very tightknit community where it's all family, everything is so tightknit, the way people communicate, the way they have each other's back," Saleh said of his hometown of Dearborn, MI. "So going through this process, from Zoom meetings and then having the opportunity to meet Christopher, Joe and Hymie, I felt I was back home. It felt like I was talking to people in my community.
"When I left the building, there was nothing I wanted more than to have a callback to get back here."
Saleh got that callback, and this week he signed a contract to come on board as the Jets' 20th head coach. "I'm really excited for them to put me in their circle and to get to work," he said.
"We were looking for a leader of the entire team, a CEO type, and Robert fits that bill," Johnson told newyorkjets.com's Olivia Landis. "He has an agile mind and he's a terrific leader. You listen to players in his past, coaches who have worked with him, he has methodically from the start of his career turned himself into a terrific coach. That was confirmed to us in our first meeting."
So what will Saleh's mind hatch for his new team, what will his leadership look like to the Jets and their fans in 2021 and beyond? Two main points came through loud and clear in the news conference. The first point involves the working arrangements between coaches and players.
"I'll tell you what, in my heart I do believe there's a respect level with regards to how things get done when people are trying to do things together," he said. "There's a notion of coaches coach and players play. I've never taken to that notion. I believe coaches and players are in this thing together. I believe the investment that coaches put in their players has to be the equivalent of the investment you put in your children. You've got to invest everything in your heart and in your soul into those players because they're relying on you to help them be their absolute best so they can showcase their skills on Sunday.
And when that investment is reciprocated and there are investments on both sides, he said, "It becomes personal. And when it becomes personal, it becomes very, very, very special. That's the environment we're trying to create here, to where everybody is investing in one another. When the connection is made at the personal level, you just feel it's your responsibility not to let that person down."
How will the Jets go about build that mindset? Saleh has a saying for that, which began when the 49ers defenses he was coordinating from 2017-20 showed steady progress each year while wearing rubber wristbands featuring that particular slogan.
"Get used to the mantra 'All Gas No Brake,' " he said. "When we talk about that, we're not talking about effort on the field. We're talking about the process by which we do things. the way we prepare, the way we wake up every single morning, the way we rehab, the way we communicate, the way we speak to one another. I cannot tell you enough about how excited I am to work with this entire Jets organization and understanding that when we wake up in the morning, we will all, from top down, step on the pedal and find a way to get somewhat better than we were when we woke up."
Hiring a new head coach is a monumental task for everyone involved, from ownership to the GM's office to the candidates themselves. Many great contenders will go through the 12 rounds of the interview process but only one can have his hand raised at the end. How to choose ...
The Jets didn't have to wait long for the answer to that question to reveal itself.
"This was a daunting task with this search," Douglas said. "I felt like it was an all-hands-on-deck mentality, just working in collaboration with Christopher, Hymie, our football operations staff. We really canvassed the National Football League. And what kept coming back time and time again was how great a candidate Coach Saleh was. When we talk about our criteria and what we were looking for in a coach, he checked all those boxes — integrity, passion, ability to connect. So getting the opportunity to meet him the first time, it just confirmed what everyone had said about him."
Robert Saleh, one of the top candidates to find one of those head-coaching jobs this offseason, discovered similar things about the Jets, and felt another powerful element at work — fate — for why he's now a part of the Green & White circle. It began Sept. 11, 2001, when his older brother, David, who had a narrow escape from the World Trade Center during the terrorist attacks.
"Nine-eleven impacted everyone somehow, some way," Saleh said. "Going through my brother's experience, being able to self-reflect on what I was doing at that moment and realizing that I had a passion for football really triggered this whole thing. In 2014 we were here at MetLife Stadium and won a Super Bowl with Seattle.
"Now to be here as part of the New York Jets and knowing our first game is the day after the 20th anniversary, I'm supposed to be here and I believe that. God does things for a reason and I believe this is one of them. And I'm really excited to be here and continue this journey with Jets Nation."