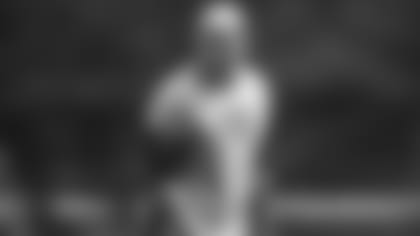 Robert Saleh was asked before Thursday's OTA practice at the Atlantic Health Jets Training Center about rookie WR Elijah Moore's spring to date. He gave a polished thumbnail of a rundown.
"Elijah is a dynamic young man," Saleh said. "One of the things that's really been great for him is that he can line up as Z, F or X. He can line up wherever he wants, and he's going to execute at a very high level, even though the routes, the stems, the releases might be a little bit different. So he's showcasing his ability to be as versatile as possible in terms of being in different parts of the field, being at different positions, understanding what needs to get done, so when the ball gets to his hands, he can still do what he does best and that's run after the catch."
It's a good scouting report to hear, not that the defensively grounded head coach of the Jets shouldn't be well-versed on all sides of the ball. But from 1997-2018, from the Green & White's defensive head coaching run from Parcells through Groh, Edwards, Mangini, Ryan and Bowles, the Jets' NFL defensive yardage and point rankings have been almost five slots higher on average than the comparable offensive rankings.
For instance, even including offensive-oriented Adam Gase the previous two seasons, the last time the Jets had a better ranking in total yards gained than in total yards allowed was in the middle of Herm Edwards' tenure in 2002-03.
It appears Saleh has a firm grip on putting his defensive background aside to embrace the entire Jets operation. He said one reason he understood coordinator Mike LaFleur's offensive scheme so well is because "in my career, 12 of my years have been with teams that have run this Shanahan system. So it's not the first time for me, it's just the first time I've been speaking about it."
Also, RB Tevin Coleman, who was on the 49ers with Saleh the previous two seasons, said his new head coach has impressed him with his offensive command during OTA practices.
"He's definitely the same guy with the details and the urgency," Coleman said. "And he's out there on the field talking to us, understanding what we're doing. That's amazing that he can coach us through things we don't understand and actually help us out there to get better."
Yet there's more to it than just being conversant in Shanahanese. Saleh explained the schedule and planning ahead, beginning with next week's mandatory minicamp at the Jets facility.
"We're not going to do anything different," he said of the minicamp schedule compared to OTAs. "I know we get more time with the guys. The only thing we'll probably add is a little bit more to the walkthroughs, just so we can go through all the different scenarios and situations that you don't really work through in OTAs, like goal line, stuff where the contact gets a little bit heavier. Then the Hail Marys and all the plays that happen once or twice a year, just go through that checklist. That's basically the difference. Otherwise the practices will be the same."
Then come the downtime, at least for the players, until the start of training camp. But for Saleh, there won't be any dark weeks as he self-scouts his structuring of the offseason program and where he wants to see changes in late July and August as he molds offense, defense and special teams into a hoped-for fearsome whole.
"There's going to be some things I'm going to revisit in the next 40 days and adjust the way I've approached things," he said. "The adjustment's been awesome. Even as a defensive guy, you still study the heck out of the offense. So all of it's been fantastic, special teams has been fantastic. And to be able to go through and tie it all together with the messaging of what we want done and how we want these guys to play to the best of their ability has been a great transition.
"And I'm going to reevaluate everything and see if we can make it better."