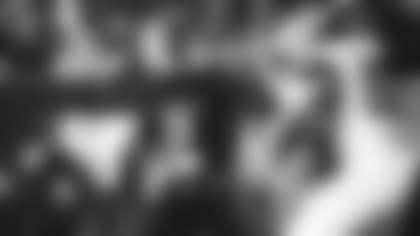 Thursday night was the Jets' last home game of the year, their only primetime contest of the season, and their first of three games to end a losing streak, start a winning streak and move boldly toward a playoff berth. And the night did not unfold the way quarterback Zach Wilson wanted.
"I just felt like I didn't have any rhythm out there," Wilson said after the Jets' 19-3 loss to the Jaguars at MetLife Stadium dropped their record to 7-8 and extended their losing skid to four games. "I was just trying to find some confidence out there on the field, find something to get us going, a little spark.
"We had opportunities. I have to be able to connect on those. We're going to go back and watch it, the coaches will detail it up for us. And I just have to put my head down and try to get better. My message to the team out there was I've got to put them in a better position."
Robert Saleh stayed positive in addressing the media, but the head coach agreed with many aspects of Wilson's assessment.
"We couldn't get the running game going again, the protection wasn't as good as we wanted it to be," Saleh said. "Obviously, there were a couple of missed throws. There was coaching. All the way down."
Asked about Wilson's fundamentals and the effects of the coach's stated reset for his young QB when he sat him down for three games, Saleh said, "I feel like he has gotten better, but obviously we have to show it on the football field. It's a collective thing. It starts with coaching. But it wasn't close to good enough today."
The numbers through almost three full quarters showed the extent of the QB's and his offense's struggles. Wilson completed nine of 18 passes for 92 yards but also threw an interception to end the second quarter and was sacked three times for 21 yards. With 8 rushing yards, that gave the Jets offense 79 total yards, three first downs and 1-for-8 on third-down conversions.
The offense's spark-less showing in the game-long rain and wind was one reason Saleh turned to practice squad QB Chris Streveler, elevated from the practice squad to execute a run-based package of plays "if it really got out of hand with the weather," with 3:31 left in the third period.
Streveler moved the offense 73 yards on 16 plays over its second-longest drive by time this season, 8:07, before throwing a fourth-down incompletion from the Jaguars 13. He stayed on the field for the next two Jets drives to end the game.
"He had them on their heels," Saleh said of Streveler. "We didn't finish the drive but we just wanted to stay with him."
Wilson said he took the QB switch in stride.
"I was always staying ready," he said. "I wasn't sure what the plan was. It was just a last-second package we put in, not knowing what the weather was going to be. I was staying ready on the sideline, but it was not up to me."
Saleh said he didn't know the answer to why the Jets offense has moved better in spots with other QBs under center, but he did identify a factor that Wilson talked about.
"Confidence is a big thing. As a human, you're going to have adversity in your life, ups and downs. And obviously, he's in it right now," the coach said. "Zach's the kind of kid who's going to keep his head down, work through it and try to find ways to improve. You'd be remiss saying there wasn't a confidence thing there. We've got to help him out with that, too."
The reset hasn't gone the way everyone at One Jets Drive has wanted. When he returned from his preseason knee injury and rehab to start Game 4 at Pittsburgh, he began a seven-game stretch in which he and the Jets went 5-2 but finished with two losses to the Patriots in in a three-game span. Mike White took over for three games, going 1-2 but sustaining a rib injury in his third start, at Buffalo. Wilson returned for Detroit and Jacksonville and went 0-2.
"Yeah, man, it's tough. I'm working my way through it," he said. "But I've got to be optimistic here. I'm just going to go to work and show the guys how much I care for them."
But as for whether Wilson will get to show that care in the final two games, at Seattle and at Miami, Saleh wouldn't speculate on whether White would return to the starter's role if he got clearance from the team's medical staff.
"I'm not prepared for any of that. There's a lot of medical stuff we've got to get figured out," he said. "We'll go through this weekend and we'll figure it all out on Monday."
See the best images from the Week 16 matchup between the Jets and Jaguars on Thursday Night Football.