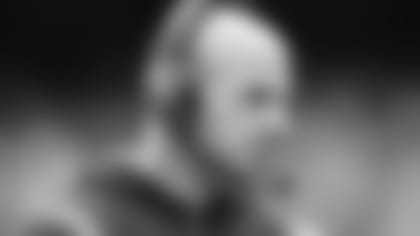 Robert Saleh wasn't frothing at the mouth during his postgame news conference but he also wasn't happy about the developments all around his Jets in their 45-17 loss to the Bills at MetLife Stadium on Sunday.
"Clearly it's not good enough," the first-year head coach said evenly when asked about the Green & White's performance in falling to 2-7 on the season. "Since coming off that Tennessee game, it just hasn't been good enough. Atlanta, we played all right, but ever since that bye week, we're not nearly as good as we wanted to be. Obviously we've got eight games left, and from coaches to players, we've got to find a way to get better every day, or otherwise you're selling yourself short."
The Jets' struggles were variations on themes from the New England and Indianapolis losses and to a certain extent the win over Cincinnati. Defensively, the Jets were gashed often by the Bills' talented offense that found its footing again after last week's 9-6 loss at Jacksonville.
They had 17 plays of 10-plus yards. Five came on runs, including Emmanuel Sanders' 24-yard end-around followed by Matt Breida's 15-yard touchdown in the third quarter. Then on the passing game, Josh Allen found 12 receivers for 10-yard gains, with six of those going for 20-plus and three for 40-plus.
That led to 489 yards on the day — which on 54 plays toted out to 9.1 yards/play, the second-most in a game by an opponent in franchise history — plus another 40-plus-points game.
How, Saleh was asked, did the big passing game happen?
"Even when we were going single-high, you're scooting up to try to take care of the run game and they're throwing go balls and doing a good job," he said. "We've got to win one-on-ones in those situations. But at the same time, to be able to mix and match ... you're going to get caught in certain one-on-one situations. It's been like that all year. Our corners have been doing a great job, but credit to those guys, [Stefon] Diggs and Sanders. Those are pretty good receivers. They got the better of it today."
The run defense was slightly better than it was at Indy, if 5.8 yards/carry and four rushing touchdowns Sunday is better than the Colts' 8.7 yards/carry and three TDs.
"Again, we'll look at it. We didn't do much of anything very good defensively," he said, then, after drawing a breath, added, "They hit us on a couple of reverses, broke some tackles, did some good things, got us on the edge on the first drive of the game. Obviously we've got to be better."
Flipping across the line of scrimmage, QB Mike White and the offense didn't have the kind of magical day they experienced vs. the Bengals. White was sacked only once but was under pressure and also succumbed to some of Buffalo's defensive mastery as he threw four interceptions and the Jets' two touchdowns didn't come until the fourth quarter, after the visitors had opened a 38-3 lead.
But while the Bills D came on strong, the Jets committed some errors, besides the picks, to help turn what could've been a feelgood, get-back-in-the-game second quarter into a 15-minute opportunity lost.
It began on the continuation of the Jets' drive from the first quarter, which reached fourth-and-1 at the Buffalo, from where Saleh was going to go for it to extend the drive. But the Jets suffered a delay of game, one of nine penalties marked off against them, and wound up punting.
"We felt good with where we were," he said about the go-for-it call. "We should've gotten the ball off."
Then late in the period, Buffalo had opened a 17-3 lead with an explosive two-minute drill, but with under a minute to go, the Jets were trying to get back into at least field goal position. White found Corey Davis for his first catch of the game, a 28-yarder to the Bills 33. But S Micah Hyde ripped the ball out of Davis' grip and recovered the fumble. Then the Bills went on to score three TDs in rapid succession, beginning with the opening drive of the third quarter.
"Right there it's 17-3 and we have a chance to get it to 17-6, worst-case scenario," he said. "And I know Corey is grinding, trying to gain more yards, trying to fight, so it's not from lack of effort or concentration. Credit them, they got the ball out. But coming out in the second half and not to be able to get something going is frustrating."
To put the topper on the day, Saleh wasn't asked too many questions about QB Zach Wilson's physical condition, only because his cornerbacks, not quarterbacks, suffered another injury with the loss in the second quarter of starting RCB Brandin Echols to a quadriceps injury. Combined with the injuries absorbed at safety, the Jets could be hamstrung as they try to ready their forces for next Sunday's home game against the 3-7 Dolphins.
"It's concerning. We need healthy bodies," Saleh said, adding as optimistically as he could about the next game, "Obviously, we've got to find a way as coaches to figure out how to help these guys out a little better, too. So again, we're going to get to it and get ready for Miami."