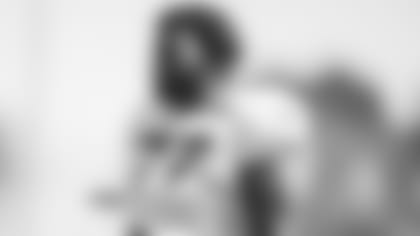 Robert Saleh has been around the NFL a few times and, forging ahead into his third year as the Jets head coach, he wasn't about to be baited into giving up any information on the ongoing trade talks between the Jets and Packers for QB Aaron Rodgers.
"To be honest, I've got nothing on that one," Saleh said during his sitdown with team and national reporters at the start of the NFL Annual Meeting in Phoenix today. And "that's more of a Joe question," referencing GM Joe Douglas. And "I can give you Joe's number."
But Saleh had some good news about the cordon of offensive linemen he and his coaches are "continuing to address" so that they can protect the starting QB, "whenever he shows up, whoever he might be."
Specifically, the Jets have some good individual talent on the OL, but for the second straight season they had trouble maintaining the line's continuity due to injuries big and small. Saleh said "there's still some work to be done there" on the line, but as for four players — three tackles and a highly thought of right guard — coming off injuries, the head coach likes where each of them are at this stage of the offseason.
"I'll start with Duane," Saleh said of Duane Brown, the left tackle preparing to enter his 16th NFL season. "I've got to start drinking the water he's drinking, because I have no idea how he's rehabbing and progressing the way he is. He looks fantastic. I see him in the weight room every day. I frickin' love that dude."
Brown came to the Jets as a free agent last August, right after Mekhi Becton went down with his season-ending knee injury. But Brown suffered an injury of his own, to his left shoulder, which cost him the first four games plus the season finale and then required offseason surgery. Yet in between those missed games, Brown started 13 in a row and played 746 consecutive offensive snaps before leaving Game 16 at Seattle a little early.
Becton is another player the Jets and their fans are intensely interested in. With that kneecap avulsion fracture, he's missed the Jets' last 33 games. But again Saleh sees nice improvement that his big tackle has been making, both up close and personal and also on Mekhi's social media accounts.
"I know he's posting videos," the coach said. "He looks good, man. He's doing all the right things. His mind's in the right spot."
Another guard/tackle on the rehab trail is Max Mitchell, the fourth-round pick whose promising rookie season was limited to six games and five starts, first due to a knee injury, then to a blood-clot issue that landed him on the NFI list to end the year. "I'm confident," Saleh said, "that Max will come back fully healthy and be ready to roll."
Last but not least is Alijah Vera-Tucker, who could also be included with the above tackle talk, since he started the first three games at right guard, then one game at LT, then three more at RT before suffering his own season-ending elbow injury. Saleh was asked if he saw AVT returning to his RG home this season.
"Hopefully, yeah," he said. "We think he's an All-Pro-caliber right guard. We think he can be a heck of a tackle, too, but he is an elite guard. That's somewhere we would love to keep him."
Throw in Laken Tomlinson, who started the entire year at LG, and that would seem to fill four-fifths of the needs for starting O-linemen, plus at least one solid guard/tackle backup in Mitchell. Only starting center remains to be filled.
So the Jets and new OL coach/run-game coordinator Keith Carter have some talented bodies to plug and play. But Saleh said that even with the signings of veteran free agents Wes Schweitzer and Trystan Colon, both of whom have center experience, the Jets won't be standing pat on the personnel front.
"We're still looking at that group, making sure we cross our T's and dot our I's. There's still the draft, there's still free agency," he said. "We'll continue to study all of it and make sure we're making the best decisions for the organization."