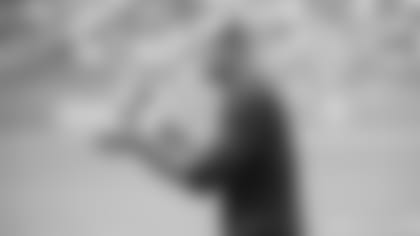 Jets head coach Robert Saleh was asked some pointed questions following the Jets' fall-from-ahead 31-24 loss to the Dolphins at Hard Rock Stadium on Sunday. But there was only so much he could say because he'd answered some of those questions in the previous weeks of his first season at the helm.
Two key queries: Why not four quarters of solid football? Why only two?
"I think the guys felt good about where they stood," Saleh said of the feeling of his locker room at halftime with the Green & White sitting on top of the Aqua & Coral, 17-10. "I know we did as a coaching staff. We were running the ball well, we were playing good defense, we were good on third down, we were moving the chains, Zach [Wilson] was doing some cool things off-schedule.
"The vibe was good. It just didn't come to fruition."
That was backed up by the first half/second half statistical breakdowns:
Table inside Article

| | First Half | Second Half |
| --- | --- | --- |
| First Downs | Jets 13-9 | Dolphins 14-3 |
| Rushing Yards | Jets 65-64 | Dolphins 119-37 |
| Total Yards | Jets 174-147 | Dolphins 232-54 |
| Third Downs | Jets 2/5 to 1/5 | Dolphins 4/7 to 1/6 |
| Possession | Jets 15:09-14:51 | Dolphins 19:31-10:29 |
| | | |
"Obviously, we had a lead, an opportunity ... the message didn't change from the beginning of the week," Saleh said. "Just the challenge of running the football, playing good defense, scoring points, keeping points off the board — it's not revolutionary. The adjustments are made and all that stuff. But the mindset to win in December always comes down to the second half, especially in the fourth quarter, with the ball in your hand, with a chance to go score."
Saleh's message on December football was a variation on a theme he's been sounding most of the season, about the youth of his team, how they're learning all the time, how it's going to "flip."
The learning continues into the 12th month of the season, when so far the Jets' record is 0-3.
"We gave everything we had, and I promise you they gave it right back because they're trying to stay alive and stay in the hunt. And winning games in December is a grind, it's a back-and-forth battle, and it comes down to the fourth quarter and to a few plays that make or break you.
"So I'm proud of the guys for the resilience and the fight. There's going to be a lot of things that we can learn from this game. We've got three games left of December football to learn how to win these games. Because I promise you we're going to be in these positions and what can we learn from this season in terms of what it takes to win these games going into next year when we're in this position again to be able to close [games] out."
The learning will be applied first to an opponent, struggling as much as the Jets in the Jaguars, who will come to MetLife next Sunday at 2-12. Then Tom Brady and Tampa Bay (10-3 before Sunday night's game) to North Jersey the following week before the Jets wrap up '21 in early '22 at Buffalo (8-6).
Elijah Riley 'Checked Out Fine'
One last note on December football: That's not the most important thing when it comes to the health of Jets S Elijah Riley. But Saleh said Riley seemed to be on the rebound after his violent collision with DL teammate Kyle Phillips, which resulted in his being immobilized and carted off the field to cheers from the Hard Rock Stadium crowd early in the third quarter.
"I'm still trying to get the details," Saleh said at the top of his news conference, adding, "He's good, he checked out fine. He'll travel back with the team."
See Best Images from the Game in Miami