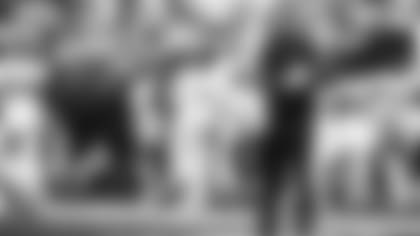 Robert Saleh wasn't in a bubbly mood following the Jets' home-opening 25-6 loss to the Patriots at MetLife Stadium today, but he hadn't lost his positive attitude for QB Zach Wilson despite his four interceptions or for his young and still growing team despite its 0-2 start to the 2021 season.
"We showed up to play. I thought our guys played their butts off," Saleh said. "But when you lose the turnover battle four-nothing, it's impossible. It's hard enough to win in this league when the turnover battle's even. When you're down four, it's darn near impossible."
Then he pointed to both sides of the ball where he saw things moving in the direction he wants.
The Jets' defense, for instance, put some hits on Patriots rookie QB Mac Jones to the tune of three sacks plus an intentional grounding call for 159 net passing yards, as well as sitting on their run game, except for one big play. Overall, the Pats gained 260 total yards, their lowest total against the Jets since gaining 231 at MetLife in 2014.
"It was a great job by the defense just in terms of their no-quit mindset," Saleh said. "It's deflating when you take the field off of a sudden change, but I thought C.J. [Mosley] showed up, JFM [John Franklin-Myers], [Sheldon] Rankins, Quinnen [Williams]. They played hard and there was no quit. Even that last drive in the fourth quarter, ball on the 5, first-and-goal, every reason to quit, and they turned up. So tremendous job by them, and if we get effort like that, we're going to win a lot of games."
That one tough play for the Green & White and their fans to watch was RB Damien Harris' multi-tackle-busting, second- and third-effort 26-yard touchdown run in the third quarter that opened the Pats' lead to 19-3. Saleh wasn't excusing his players' missed tackles but gave Harris a big endorsement.
"That was a heck of a job by the young man running the football. He broke a lot of tackles," the coach said. "We've got to be better, obviously, take the extra step to make the tackle. But that kid ran with drive and desire, and credit to him."
Saleh was also queried about his offensive line, which rebounded from last week's rough showing at Carolina, with the changes at starting tackle of George Fant moving from right to left tackle and Morgan Moses going in at RT, and played decently against the Patriots.
The Green & White rushed for 152 yards, their second-largest total behind the 206 yards they ran for vs. Las Vegas last year in their last 37 games dating to 2018. And two of the four sacks the blockers yielded of Wilson came on the game's final drive.
"I thought our O-line came out and did a really nice job, establishing the line of scrimmage," Saleh said. "We were moving the ball in the first half. But you've got to take care of the ball. I think we got into the red zone a couple times, were held to a field goal once, turned it over another. We kept getting down there and just missing on opportunities. But that's what veteran teams take advantage of, costly mistakes."
The bottom line was that Saleh was upbeat as always, but with a cautionary note for all the Jets as they head into the third week of the regular season and prepare for next Sunday's game at Denver:
"We had our ops. We've got to be better."