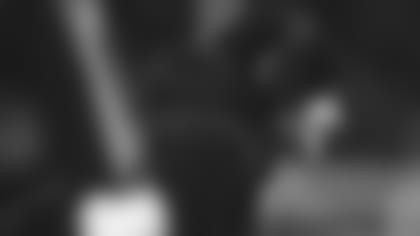 Quarterbacks were certainly on the minds of Jets reporters and Green & White fans following the 32-6 loss to the Bills at Highmark Stadium on Sunday. Robert Saleh answered all the questions as directly and informatively as he could.
But the head coach knows there are issues now with his 4-6 team that supersede the still quite important matter of whether Zach Wilson or Tim Boyle will start at QB on Black Friday at home against the Dolphins and whether Trevor Siemian will be elevated from the practice squad.
Such as the makeshift nature of his offensive line, which started its seventh different OL combo of the season and fifth in five games with Chris Glaser coming in at RG, then losing LT Mekhi Becton to an ankle injury late in the first quarter.
"It's a credit to them. I thought they came in and battled. They're here because they can play," Saleh said of his patchwork five. "So we've got to line up and find a way to generate a scheme that protects them and also gives them a chance to be successful. It's an exciting opportunity for them and we'll see what they can do with it."
That's a classic example of coaching positivity. So was his response to "Is your defense broke?" after it yielded its most points in a game this season and its second most yards at 393 behind only Patrick Mahomes and the Chiefs' 401 yards six games ago.
"I believe the defense takes a lot of pride in its play," he said. "There were two plays in the second half, the first two series that I know a lot of guys want back. I'll speak for Sauce — the personal foul and the next series on that seam ball, he's got a chance to go pick that one. Give credit to Buffalo. They came in and played a patient style. Josh [Allen] didn't play as much 'hero ball' as we're used to seeing him. Credit to them, they had a good game plan."
The Jets thought they had a good game plan, too, under Saleh and OC Nathaniel Hackett, but it never panned out the way the HC thought it would, for his QB and also for his top wideout, Garrett Wilson, and his other youthful offensive performers.
"They're young. Young kids make mistakes," Saleh said, then, turning to G.Wilson, "You can go through it all. We had the opening kickoff, the fumble [by rookie free agent Xavier Gipson], dropped balls, fumbles. Garrett [Wilson], he's still young. I know we expect a lot out of him, but he's still young, dealing with a brace. It's all across the board. They'll get better."
Saleh was being optimistic as the Jets gird up for their date with the NFL's No. 1 offense in the Dolphins, but he wasn't sweet-talking everything. At another juncture on his offense, he said, "I don't think anyone did anything today — players coaches, schemes. It obviously was not good enough. None of it was good enough."
In keeping with his ambivalence about how to get these Jets up and at 'em in time to still make a viable playoff run, the coach was positive.
"We knew we were going to face some adversity this year," he said. "We've been able to battle adversity with some good games, and then with some not good games like today. But I know this group is resilient. We'll get up off the mat."
Dr. Saleh didn't have a definitive prognosis for how his Jets can climb out of their funk. But he did offer a sobering diagnosis of how the Jets, who beat the Bills once on opening night and would have passed them in the standings (by a half-game) with another win at Orchard Park on Sunday, came out of this disappointing showing.
"Scars sometimes accelerate the process of getting better," he said. "We all got scarred today."
See the best game action photos during Sunday's game against the Buffalo Bills.