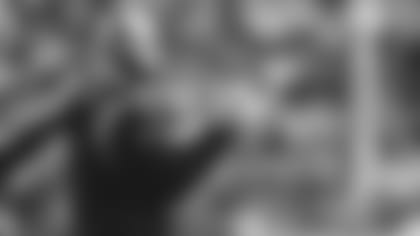 Every NFL team every year at this time hopes its offseason of work has been less about signing "characters" more about maximizing "character." Two members of the Green & White brain trust are counting on the latter sense of the word to help continue the Jets' efforts to climb into NFL conversations in the season ahead.
"All those pieces we're putting together, I think we're on the right track," CEO Woody Johnson said Monday at the annual league meeting in Palm Beach, FL. "High character. Lots of high-character guys with a love of football. They're both very important ingredients, and how everyone's going to fit into the locker room is very important."
"We feel like we've had a really good offseason," head coach Robert Saleh told reporters. "We may not have hit the headlines with the star players, but we still feel like we took a really good step this offseason."
As Exhibit A, Saleh addressed the character intangible, specifically in terms of how it factored into what he knew of Laken Tomlinson. Saleh's four seasons as San Francisco's defensive coordinator from 2017-20 matched Tomlinson's first four seasons as the 49ers' starting LG.
"There's a saying that you want guys who can help you plant the flag, in terms of messaging and all that stuff," Saleh said. "My relationship with Laken was just a level of respect for the way he played, his tenacity on gameday, that nastiness that he'd bring, the competitive nature he brings, his mental toughness, his book smarts — all of it.
"I feel like we really attacked the character side of the game in our locker room, when you look at D.J. Reed and [Jordan] Whitehead and C.J. [Uzomah] and [Tyler] Conklin and Laken," the coach continued. "They bring an edge, they're bringing professionalism, they're bringing a winning pedigree to the locker room. They've all been in championship games, they've all been with winning organizations, so it's really exciting to get those guys here."
More edge, more professionalism and more pedigree should be arriving in a month when the Jets assemble their '22 draft class. The bad part of their involvement in the three-sided trade talks with Kansas City and Miami for WR Tyreek Hill is that the Jets lost out to the Dolphins for Hill's services. The good part is that for now, the Jets still have their two picks in the top 10, their four choices in the top 38 and their nine picks overall to add to the team they're fashioning in the coming months.
"We have to hit on them," Johnson said of the urgency for the Jets to make the right free agency signings and draft selections, with a nod toward the development of second-year QB Zach Wilson. "We're very conscious on hitting on it and making sure we have the players that we need particularly for developing the young quarterback."
"We're still building," Saleh said. "We're going to have our moment in the sun. It's a big offseason for a lot of our guys to come in and take a step and show the progress that we know they're capable of. And when they do that and when it's our time to pounce, we'll pounce. We've got a lot of draft capital, we've got a lot of exciting moments this offseason. It's not close to done."