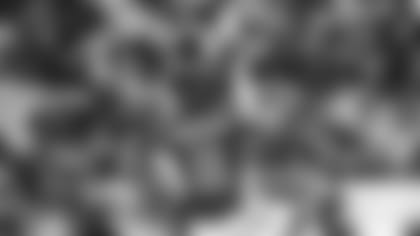 Robby Anderson is about as low-key a top NFL wide receiver as there is. After games he answers questions quietly and usually in one sentence each.
Unfortunately for Anderson, some of his on-field performances this season have also seemed underwhelming, mostly the one-catch outings he's suffered through because of extreme attention from the likes of the Eagles (1 catch, 16 yards), Patriots (3 for 11 away and 1 for 10 at home), Giants (1-11) and Redskins (1-6).
But then there are games where Robby lets everyone know he's around. Such as against the Raiders on Sunday. It wasn't his flashiest game or his most glittering receiving line. But it had a lot to do with the way the Jets opened their lead against the still-playoff-minded Raiders to 7, 10, 17, 24 and 31 points.
"You know, I'm out there playing my role," he told a large group of reporters. "I'm just trying to make the most of my opportunities when they come and contribute."
Here's how Anderson contributed with his four catches for a game-high 86 yards:
On his first catch, he ran away from single coverage for 24 yards to the Oakland 24, helping to set up the Jets' opening field goal.
In the second quarter, Anderson caught a ball down the deep middle for 31 yards to the Raiders 12, setting the stage for another Sam Ficken field goal.
Catch No. 3 was on a razzle-dazzle reverse fleaflicker, with the ball ending back in Darnold's hands in time to find Anderson for 30 yards , against the defense of CB Nevin Lawson to the Oakland 9.
This time the drive ended in a touchdown and it was a Robby score, his third of the season, on a 1-yard dart from Darnold that he ripped away from Lawson for the TD that made it 27-3.
"Before, it wasn't really anything he was doing," Jets Coach Adam Gase said of Anderson's wavy season. "He was doing a good job of getting open. For whatever reason — we couldn't get the throw to him or the read took [Sam] somewhere else first — I just think it worked out right for him today. He really has been doing a good job of staying with it. Today, it finally paid off."
As for the fleaflicker, which went from Darnold to Bilal Powell to Jamison Crowder then back to Darnold before the throw, Gase said: "I was a little disappointed we didn't score on it, but at least we completed it. We've got that going for us."
The completion, in fact. was the Jets' longest fleaflicker in 12 years, or since Kellen Clemens took a pitchback from Thomas Jones and found Laveranues Coles for 56 yards on the second play of the OT win over Pittsburgh in 2007.
None of this stuff outwardly dazzles Anderson. About the best he would allow to the assembled media on being happy about the day's developments was his observation on what Darnold said about the Jets locker room and "the vibe, it's a lot better for sure."
"Regardless of who it's against, a win is a win," said Anderson of the win streak and the Jets' locker room. "But it feels good to come out and put up a win against a very good team like that. That's how it is when you win, so it's good. A very good feeling."