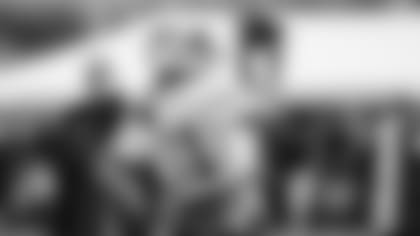 Quincy Enunwa's return is more than just a boost to the Jets' receivers room. They also get back Robby Anderson's go-to mentor.
"He brings that that veteran presence. He's like big bro," Anderson said following the team's second training camp practice. "We kind of lost that last year until Jermaine [Kearse] and [Jeremy] Kerley got here. That's been who I've been learning from since the moment I got here. It feels good to have him back to the side of me when we're out there and communicate and teach me things like he did my rookie year."
Anderson and Enunwa are the team's only two remaining wideouts from 2016 when the former signed with the Green & White as an undrafted free agent. Since, the speedy Anderson has climbed the depth chart and is expected to have a big season after setting career highs with 941 yards and seven touchdowns on 63 receptions in 2017.
"I have the same attitude," he said. "I don't really try to get too high or too low. We're trying to win. That's something we have to improve on as a team and that's what I'm focused on."
Anderson is excited about this season, but not because of personal goals. He sees more talent among the WRs and the rest of the team.
"We have more weapons this year," he said. "Things started to break down a little bit at the end of last year. We have Q back, we have Jermaine back. We have other key components that are going to step up too, so that's definitely going to help me. We have a good backfield. I feel like we have a very good team. Probably the best since I've been here."
Despite tasting person success last season, Anderson said he's still picking up the nuances of the game and perpetually perfecting his craft. The Temple product continues to focus on footwork, speed and acceleration while gaining some weight. He said he weighs roughly 175 pounds and hopes to be 180 by the regular season.
"I think every year as the years go by, I'm growing mentally. I think that's the biggest thing," he said. "Especially towards the beginning of last year and towards the end, the game started to slow down a little bit more. I'm starting to read and understand things more. I think I'm just growing mentally and I'm weighing a little bit more compared to last year. Each year, I keep gaining a little more weight and physically and mentally, I feel better."