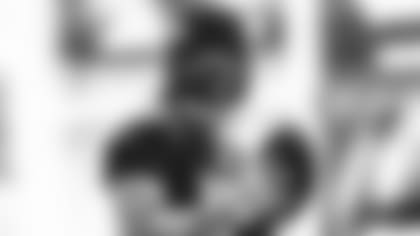 Robby Anderson's hot again. Or hot as always, depending on one's perspective.
"I honestly feel like I'm one of the best receivers in the NFL when given the opportunity," the Jets' fourth-year wide receiver said after Thursday's practice. "If you look, when I'm given those opportunities and given those multiple targets, I put up those numbers that people that are considered top receivers do. And I feel like I've done that on a consistent basis throughout my career when given the opportunity.
"I'm just trying to make the best plays and do the best I can to contribute to the team."
Anderson wasn't complaining, simply responding to questions about his recent rise back into the forefront of the offense. In the rout of the Raiders, Robby grabbed four Sam Darnold passes for 86 yards and a touchdown, including a 30-yard catch that was the Green & White's longest fleaflicker reception in the past dozen years. In last week's otherwise depressing trip to Cincinnati, Anderson had 7 catches on 10 targets, both season highs, and his second 100-yard game of the season, 101 yards to be exact.
Since this comes after his third and fourth one-catch games of the season, in the wins over the Giants and the Redskins, his emergence heading toward the Miami game at MetLife on Sunday has become a juicy sidebar.
"It's been hard at times, but I feel like the games I've put up are pretty good games when given the opportunity," he said of his understated season numbers, 36 receptions for 546 yards and 3 touchdowns.
Asked if he felt Coach Adam Gase and his staff had anything to do with a reduction in targets, a little more than five a game before Cincy, he disagreed.
"Nah, because I know they obviously know what I'm capable of doing," he said. "It's not like they're purposely doing that. I just keep doing my job, trying to make the most of the opportunities I am given."
Gase repeated his observation that Anderson's sometimes been a victim of circumstances out of his control.
"I feel like he's been doing the same thing," Gase said. "He just keeps trying to get open. And he has been, a lot of times. Like I've said before, it's not really him, it's just that another protection broke down, the ball didn't go there due to coverage. It hasn't really been on anything he's done. That's why we've just been reminding him, keep doing what you're doing, the ball will come your way, It just hasn't worked out that way for him, but the past couple of games it has."
Some of Anderson's grabs vs. the Bengals were of the more physical variety, something Gase said he's seen from his top wideout in the past month at practice. Anderson didn't think he was doing anything that much different.
"Honestly, I just kept working," he said. "I work the same way if I have a big game or I don't have a big game. I'm still grinding the same way. It's simple."
Anderson stayed on message that he's doing whatever it takes and rolling with his opportunities. He was asked, assuming his final 2019 receiving line speaks of not enough opportunities to be paid like one of the NFL's top five pass-catchers, if that would affect off-season negotiations. But Robby wasn't going to go there.
"It'll work itself out," he said. "I'm not really too focused on that right now. I'm focused on playing the Dolphins and getting a W."