In every city on Rick Dennison's NFL assistant coaching tour over the last two-plus decades, good offensive things seem to break out. Now that Dennison has been introduced as head coach Todd Bowles' new offensive line coach/run game coordinator — the first "RGC" in franchise history — working with new coordinator Jeremy Bates, we thought we'd go back over his stops and some of the numbers that jump out.
Denver Broncos, 1995-2009
In his first stop a Mile High, Dennison first began his long relationship with Gary Kubiak, Denver's OC from 1995-2005, and also worked with a host of other coaches with familiar names, among them Bates, WRs coach Karl Dorrell, now with the Jets, and Anthony Lynn. As the special teams coach in 1997 and '98 he got his first taste of contributing to a Super Bowl-winning operation.
In '01 Dennison moved to the offensive line and then served three seasons as OC, from '06-08, with QB Jay Cutler's role in the offense growing each year through '08, when he threw for 4,526 yards and 25 touchdowns and the Broncos offense ranked second overall and third in net passing yards.
Houston Texans, 2010-13Kubiak left to become Houston's head coach in 2006 and brought in Dennison as his offensive coordinator in 2010. In Dennison's first three seasons, the Texans fielded top-10 total-yardage teams in '10 and '12, the No. 4 passing team in '10, and top-10 units in rushing and scoring all three seasons. In his entire four-year stay, the Texans were No. 8 in total yards, No. 6 in rush yards, No. 7 in first downs, and fifth in both giveaways and offensive points. And Arian Foster was third among all RBs with 4,806 rushing yards and fifth with 6,427 scrimmage yards.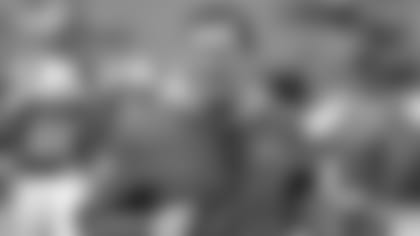 Baltimore Ravens, 2014John Harbaugh added Kubiak to his staff as OC and Dennison as quarterbacks coach, and in some ways QB Joe Flacco never had it so good. Flacco threw a career-high 27 touchdown passes, notched a 91.0 passer rating that is still the second-best of his 10 Ravens seasons, and suffered a sack every 30 dropbacks, the best rate of his career and No. 2 in the NFL that season behind only the always well-protected Peyton Manning.
Denver Broncos, 2015-16Kubiak got the nod from John Elway to return to the Broncos as head coach in 2015 and Kubiak called on Dennison to accompany him again. The offense was middle-of-the-road that season, and Manning's greatest individual seasons were behind him, but the best ranking of all were Rick, Payton and the Broncos contributing to another Super Bowl winner for Denver.
Buffalo Bills, 2017New Buffalo HC Sean McDermott named Dennison his OC a year ago and it was arguably the Bills' running game and third-down efficiency that led the way to their first playoff berth this millennium. LeSean McCoy was No. 4 in the NFL with 1,138 rushing yards and tied for third with 38 runs of 10-plus yards. The Bills' offense was No. 6 with 126.1 rush yards/game, No. 4 with 30.4 carries/game, and No. 6 with a 41.9% third-down conversion rate.