Ed Anzalone had two points he wanted to get across before stepping up for Jets fans everywhere to accept their game ball from head coach Rex Ryan in front of the team this morning.
One was that "Fireman Ed" was truly representing his fellow fans.
"I think of all the guys who have been waiting for years and how they would like to be in this spot," he mused in the second-floor dining area at the Atlantic Health Jets Training Center. "All the guys I grew up with, the people I meet in the stadium, guys that have been going for years and years and years, the people who cant get to the games.
"Their passion is as great as mine is. There's no difference. I'm just blessed to be able to lead the orchestra, to get them crazy."
Ed made Point No. 2 after he came down the steps of the meeting room around 9 a.m. to the hoots and hollers and cheers from the players and received the painted pigskin from Ryan.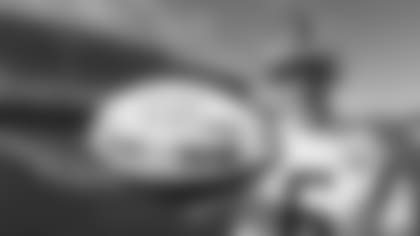 "The fans have been waiting a long, long time," he told them. "We're so excited. We thank you guys. We're with you. And what you saw Sunday, that's just the start."
And so has begun the second week of fan focus — call it the Fortnight of the Faithful. The crowd was needed in a big way to help defeat the Patriots, 16-9, last Sunday. As Ed recalled, it was the loudest regular-season Meadowlands crowd ever, bigger than Green Bay when the Jets clinched the division and the playoff berth in 2002, on a par with those legendary playoff gatherings for Jacksonville in early 1999 and Indianapolis the week after Green Bay.
And now, of course, the fans are required again, for Tennessee in two days. The Titans are talking confidently heading toward their visit to the Jets' house, and the Jets players have let it be known that they're ready for this fight but they want their 12th man to have their backs.
"It was the loudest since I've been here," said Alan Faneca, who admitted he's only been a Jet for a year and a game. "But it was loud and it helps our defense big-time. I want them to get louder. You can always improve. We're out there trying to improve and the fans are trying to improve, too."
"The fans were great," said Shaun Ellis. "We need that every single game. Anybody coming into our stadium, we need to be giving them hell."
"It should be like that every week," Wallace Wright concurred, "not just because we're playing the Patriots."
"This is the kind of atmosphere you're used to maybe in college, and then it's 10 steps above," said QB Mark Sanchez, a season removed from the Southern Cal electricity. "Like a UCLA-USC game or USC-Notre Dame game, as fun as they are and as much as I'll remember them, it's not even close. It's loud in here. It was so loud.
"I think it was important for us to set the bar high at home. We want to set a precedent for how to play at home."
But could there be a brownout against the Titans because they're 0-3, a letdown because their powder blue Houston Oilers throwbacks are not the red, white and blue of the Patriots?
Anzalone — appropriately wearing his new Sanchez No. 6 Titans of New York white road jersey — doesn't think so. He feels the fans will feed off the players, and we saw how the players threw themselves into the task of stopping the Patriots at home.
Further, Fireman Ed sees a big benefit of the fans taking on this new charge, to be one of the NFL's new homefield standards each and every time out of the tunnel.
"What I'd like to do this year — and I know the fans feel this way — how about we go undefeated at home?" he said. "It'd be the first time in our history."
Indeed, Ed is right. The best home records at the Meadowlands were a pair of 7-1's, in 1985 and 1998. At Shea Stadium, a 6-1 home mark started the historic 1968 season that ended in Super Bowl III success.
But that's getting way ahead of ourselves. It's one game at a time, and the next game is Sunday against Tennessee.
As Ryan said when asked if he was preparing to issue a new challenge for the spectators heading into this Titan-ic matchup, "No, they know what to do."
But the coach tipped his hat one more time to the Green & White crazies during a brief stop with the game ball in front of the complex's display case Thursday night.
Actually, Ryan didn't go to his hat. He stuck his thumb up in front of him and said two words, for last week and for the next seven games heading into January: "Thanks, fans."