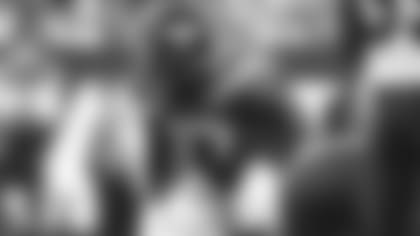 Mekhi Becton's long and winding road back to being a major contributor on the Jets' offensive line continued along in fits and starts this training camp and preseason. But the big tackle may have taken a big stride forward against Tampa Bay on Saturday night toward staking his claim for one of the Green & White's starting tackle spots.
"Mekhi played with a lot of energy, a lot of juice," head coach Robert Saleh said following the Jets' 13-6 loss to the Buccaneers. "We didn't have a lot of plays on offense, but I thought he did a really nice job. I'm looking forward to looking at that tape, but watching it live, it felt really good."
Zach Wilson, who got his third start in the Jets' third preseason game, was also happy with Becton but also with the rest of his line, which didn't allow him to be sacked or even to absorb a QB hit from the Bucs rushers who had a strong showing during the teams' joint practice on Wednesday.
"I didn't get touched. It's hard to point to just Mekhi because I'm not focused on him during the game," Wilson said. "I'm excited for him to be healthy and back out there and in great shape."
CBS New York showed several first-half highlight clips before the second-half kickoff, showing the 6-7, 350-pounder springing Wilson for his 35-yard run with a stick-with-it block, pancaking a Buccaneer on another play, then pushing a Bucs 'backer back "on roller skates" away from Bam Knight's 10-yard run.
Anthony Becht, who was not a tackle during the first eight seasons of his NFL career as a tight end, splitting his time between the Jets and Tampa Bay, but always lined up next to one, offered a short yet sweet postgame analysis of Becton's performance:
"He put a lot of good snaps on tape, and to me he looked pretty good."
Becton, who started 14 games at left tackle from the 2020 season opener through the '21 opener, when he first hurt his knee, then didn't play a snap from there through last season, came in at right tackle in the second quarter against the Buccaneers. He stayed through the third quarter for 28 offensive snaps and indeed had some strong plays even as the Jets struggled to find some offensive continuity in front of QBs Zach Wilson and Tim Boyle.
Becton has been rotating from left to right tackle during camp and he's got to move ahead of two of the three other tackles on the roster — 10-year veteran Billy Turner, second-year RT Max Mitchell, and 16th-year vet Duane Brown, who is getting closer to returning to practice and game action from his offseason shoulder surgery. Also, the Jets' "best five" could conceivable include Alijah Vera-Tucker not at RG but at RT.
"Duane, I think he's going through his weekly evaluation. It's all planned," Saleh said of Brown, who started 12 games as the Jets LT last season.
As for Becton perhaps moving from second offense work to a serious late-summer competition for one of those tackle jobs, Saleh during the week said it would depend on how Becton fared vs. Tampa Bay. "I look in a guy's eyes and he's just, he's going for it," the coach said then.
After the game, Saleh was asked if this week's practices and Saturday night's preseason finale at the Giants would be an opportunity for Becton to step up in class.
"We're going to look at everything," Saleh said, "on a case-by-case basis."
See the best photos from the home game against the Bucs during the preseason.