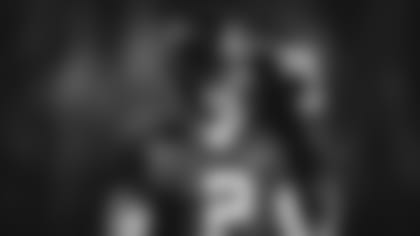 Zach is back. And there is absolutely no sense of concern or trepidation as Jets rookie QB Zach Wilson has led his offense and his team back from its bye week to do battle for the second time this season with the Patriots, this time at Gillette Stadium on Sunday.
"It's exciting every single week," Wilson told reporters following Thursday's practice. "I wouldn't just say this because it's the Patriots, but I'm super excited for this week. It's a chance for us to get better, for me to get better, to apply things I've been working on — that's what makes football so fun. So I can't wait to get back out there and play these guys. I think it's going to be a blast."
Head coach Robert Saleh saw a renewed quarterback return to 1 Jets Drive at the start of this week ready to blast off.
"Monday was awesome. Guys came back with a lot of energy," Saleh said. "Zach had great zip on the ball, he looked refreshed. And now it's just a matter of stacking it up, getting to Sunday and play ball."
Naturally, there are questions about how the youthful Wilson came out of his first encounter with the Patriots. They don't have Tom Brady at the offensive controls anymore, but the Bill Belichick defense still did to Wilson and the Jets what they've been doing to rookie QBs and the Green & White for a while as they intercepted him four times in his first 10 throws en route to their 25-6 Week 2 victory at MetLife Stadium.
Wilson said he spent time "unplugging" during the bye, seeing his family but also reflecting on the first five games of his pro career. What were his reflections on the first Patriots game? Some of what you'd expect.
"Obviously taking care of the ball. I wasn't forcing the ball, maybe the last [interception] for sure, but I didn't necessarily think I was forcing it," he said. "It was more of is it worth the risk with how the game is going? How can I put my team in the best situation to go down the field? Sometimes it's not worth that risk, and there are times that it is and we need to take those shots. But it's just being smart and understanding we were running the ball well, we were playing well on defense, and how can we just keep the ball in our hands so we can go down the field and put something together."
True enough, what may have been lost in that second defeat of Wilson's Jets career was that once he settled down, the offense at least got its yardage if not its point production together. After a first quarter of just six plays, 30 yards and 2:16 in possession time, they finished with their best rushing game (152 yards) of the season and their only game to date in which they had more total yards (336-260), first downs (18-17) and possession time (32:08-27:52) than their opponents.
The late success in Week 2, combined with the throwing mechanics he went through with personal coach John Beck and the tweaks and changes geared toward faster starts that were introduced by Saleh and his staff this week, has Wilson sounding genuinely eager to get back on track and not like someone whistling past the graveyard or feeling like he has to show his first game vs. the Pats was an aberration.
"It's tough because every game I feel like I'm flushing it by Monday," he said. "And the same thing with New England. Everything doesn't go right, but what does being mad about that game do? You've got another game coming on you quick. By Monday, even after that last game, I was moving forward and looking forward to the next week. And after this game, the same thing will happen, win or lose, good plays or bad plays, whatever, you've got to move on after 24 hours."
Which is probably the best way for these young Jets and their young quarterback to approach the leviathan that the Patriots have been for the Jets.
"Every team's a steppingstone," Wilson said. "We're building something here that's going to be special for a long time. When it's going to be super special, we don't now. All we have to focus on is one step at a time, throwing those bricks down and getting better."
See the Top Practice Images from Thursday of Patriots Week at 1 Jets Drive