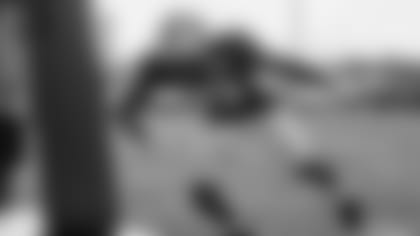 NFL referee Tony Corrente and his crew are visiting the Jets this week, and that means answering questions from Jets players and reporters on new rules changes for 2018. One area that has generated much debate and confusion and generated lots of questions is the new rule regarding "use of helmet" fouls.
"We talked to the Jets players last night," Corrente said this afternoon. "Every one of them clearly understands the rule and would stay away from it. We have some of the defensive backs come up to us and ask questions, 'Can I do this?' 'No.' 'Can I do that?' Yes. They know if they are starting to lower their head and break down, they've got to turn their head and try to hit with their shoulder."
The new rule as presented by the NFL lays out the officiating standards for calling the foul:
1. Lowering the head (not including bracing for contact).
2. Initiating contact with the helmet to any part of an opponent. (Contact does not have to be to an opponent's head or neck area. Lowering the head and initiating contact to an opponent's torso, hops or lower body is also a foul. And this rule is not limited to defenseless player.)
Additionally, players can be ejected for "egregious" contact under this rule, but Corrente stressed that "we've had the crown-of-the-helmet rule in place since 2002, 2003, and the disqualification factor has been alongside that the entire time. ... I believe five players were ejected last year out of 44,000 plays. We're looking for the egregious."
There are sure to be howls from players and fans when a formerly legal football play is flagged and 15 yards are marked off against the Green & White. But head coach Todd Bowles has already stated that he and his staff have been teaching those tackling standards anyway.
"We understand the rule and the education of it," Bowles said. "We feel like we've been teaching it the right way the whole time."
And Corrente has heard the reactions to other rules changes and has advice for players and fans heading into this next stage of trying to play this physical game safer.
"I played high school football in the 1960s," he said. "We could block anybody, anywhere, anytime, anyhow. We could crack, we could block below the waist on punt returns, kickoff returns, interceptions. By the early 1970s, they put in the rules on no crackbacks, no blocks below the waist on interceptions or punts. Everybody complained: 'C'mon, this is football!' Two years later coaches are screaming, 'He can't do that!' They adjusted.
"Are we asking players to do something different? Probably different than what they've currently been doing. Is it teachable? Is it coachable? The answer is yes. Is the game going to change? The game's not going to change."
ASJ's Touchdown/Touchback
One footnote for Jets fans on the new pass reception and fumble rules changes: Corrente was the referee who announced to fans at MetLife at last year's game against the Patriots that Austin Seferian-Jenkins, rather than scoring a touchdown, had instead fumbled over the side of the end zone and the Jets had lost the ball on a touchback. He also was among a group of officials who were asked in the offseason to give suggestions about rules changes and he brought this play up.
"The moment he lost control, by the rules, he fumbled the football," the ref said. "In order to recover the football, he had to have firm control and two feet down. He only got one down and then he fell into the pylon and out of bounds.
"The rule now says if I'm a runner and I momentary lose control — I lost it, I grabbed it — it's still your ball. [ASJ] lost it here, regained it there. It was that type of play."
Bottom line, Corrente said, the Seferian-Jenkins play under this year's rules "would've been a touchdown."