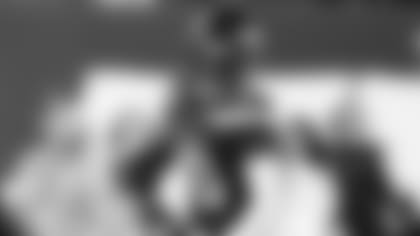 Since entering the league in 2013, Le'Veon Bell has been known best for his performance on the field. A three-time Pro Bowler (2014, 2016, 2017), two-time first team All-Pro (2014, 2017), and a three-time 1,000+ yard rusher, Bell has earned the recognition of one of the game's most talented and productive players.
But during a 1-5 start with his new team, the 27-year-old star running back has been praised for his leadership and his trusted calm in the storm.
"Le'Veon is a great teammate, and he's a great person. For those that don't know him and don't really get to be around him, they just see the Le'Veon on the football field, but he really means well," said safety Jamal Adams on the sixth-year veteran. "As a teammate of his, I can only respect him. I have so much respect for how he carries himself, how he goes about business, and all he wants to do is win."
Adams, one of the team's six captains, was so inspired by Bell's actions that he took to social media this week to express support for his teammate.
Since the start of the season, Bell has delivered a positive presence both on and off the field, challenging those around him to have faith in a team that he's deemed a work in progress.
"Yeah, obviously that's something that was expected. I know that I've had a successful career up until this point, and coming to a new team, everybody kind of looks at me a certain way," Bell said "It's something I embraced and I'm just ready to get this ship sailing in the right direction. It's something I've embraced and I'm happy for it."
When Bell's quarterback suffered through his most difficult performance as a pro, Bell quickly jumped to the defense of Sam Darnold. Despite Darnold's five turnovers against the Patriots, it was Bell who said the entire offensive unit contributed to the shutout loss and better days were ahead.
"He's been having great practiced, so like I said earlier, it wasn't all on Sam," Bell said. "We have to do a better job of putting him in better situations, making plays for him, protecting him a little better so he's not under duress and feel like he's rushed. I'm sure he made some decisions that he'd like to take back, but it definitely wasn't all on Sam."
As the team hits the road to Jacksonville to take on the 3-4 Jaguars, Bell told Darnold that he had already reached the floor and there was only one direction to go from there.
"I feel like just him being a young player, especially playing the quarterback position, you kind of need a game like that," Bell said. "Obviously you don't want to have a game like that and everybody isn't expecting that but the fact that he had it, I told him it's only up from here, you can't play any worse. He kind of looked at me and laughed but he understood what I was saying. He came out and responded with two great practices so it's going to be fun."