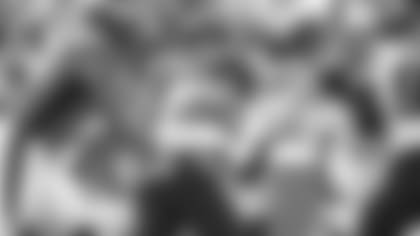 Before the Denver game on Sunday, DL Quinnen Williams was talking very positively about his "intuition, instincts and quick-twitch-type stuff" coming back in a rush and feeling ready to wreak some havoc on the football field again.
After the Jets' 26-0 loss to the Broncos, Williams was not into talking about himself as much as about his defense, which continued to do good things, even if somewhat imperfectly, in the Green & White's 0-3 start.
"We make our own mistakes," Williams told Ethan Greenberg of newyorkjets.com in his rapid-fire manner after the game. "Some games we should get blown out by 50 or 60 with all the mistakes that we made. But to have the team we have, the talent we have, the leadership we have is amazing. We've got guys doing stuff in first-time situations. The longer we go, the longer we play, the more chemistry we build, the more experience the young guys get."
Williams was one of the reasons the game Sunday was much closer than those hypothetical losses he spoke of. After his quiet first two games due to the rehab he was still going through for his offseason foot injury, he had his best first sacks and best game of the season — five tackles in total, two of them coming on his 1.5 sacks of Denver's Teddy Bridgewater, another on a solo tackle of Melvin Gordon for no gain.
"Q's" sack production was the third multi-sack game of his career, joining the San Fran and Miami games last year. Had he notched one more sack, he would have had the first game of 2.5 sacks plus by a Jets D-lineman on the road since Sheldon Richardson, who had 3.0 sacks at Minnesota in 2014. Yup, all three of those sacks were of Bridgewater.
Williams didn't get that extra sack, but his more demonstrative play felt as though it rippled through the rest of his line and his defense. The D did yield two 60-yards-plus touchdown drives in the first half and did commit six penalties, four accepted and some that led to Denver points. But of the four field goal drives, three were short, and the D posted three red zone stops in the fourth quarter, two on first-and-goal and one resulting in their only takeaway of the day, on Quincy Williams' forced fumble against rookie RB Javonte Williams that LB Del'Shawn Phillips ran 34 yards out of harm's way.
The showing gave the Jets who spoke postgame cause for concern, yet hope for the future.
"Like I said last week, this isn't going to be easy," DL Sheldon Rankins said. "Nobody expected it to be easy. If it was easy, there would never be any bad teams. ... But sometimes you've got to stumble, you've got to trip in order to start walking and running and moving forward. We'll evaluate the tape and go from there."
Quinnen Williams was every bit as forceful on himself and his team.
"This is one thing I harp on all the time. For myself, I look at the negative things I did wrong the game before and try to correct them the next week," he said. "I feel like now the whole team has got to take that whole self-correct, constructive criticism, put it to their own life, and look at themselves in the mirror and say, 'I need to correct this, I need to not have this happen again, I need to make sure I'm on top of this.' "
If that happens, Williams said with conviction, "I could see thig thing turning around very soon."