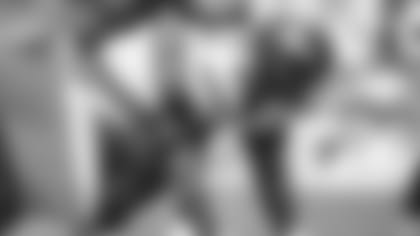 Quinnen Williams has a good handle on where he's been and where he's going as an impactful NFL defensive lineman.
"I feel like I did good," Williams said at his end-of-the-year news conference with Jets reporters on where he'd rank himself among the league's interior D-linemen. "I'd say I'm in the top 10. I'm not near where I want to be when it comes down to the production or the player I want to be. I told Coach Saleh today I need to get better at becoming a leader in the locker room and a playmaker on the field.
"I have games where I make big plays and I have games where I just do my job and I'm an above-average defensive tackle in the league," he said. "But I can be a person where I can dominate and take over games like Aaron Donald and Fletcher Cox and those guys on the elite level. I feel like I have that ability also."
Williams' portfolio is similarly two-toned. As a Jet, he was tied with outside DL John Franklin-Myers for the team lead with 6.0 sacks and was second with 12 QB hits to JFM's 14. And Q, with 13.0 sacks the past two seasons, is one of only three Jets D-linemen in the last dozen years with at least that many sacks in back-to-back seasons. The others are Muhammad Wilkerson and Sheldon Richardson.
But in the NFL, Williams' production is above average but not elite yet. While he's in the top 10 among DTs in 2020-21 with those 13 sacks and 26 QBHs, he's not near Donald, the interior-line gold standard with 26.0 sacks and 53 hits.
However, one part of being a locker room leader is not making excuses. Williams has never alibied his or his unit's performance, but we can provide a few reasons for some struggles. Quinnen's foot injury got him off to a slow start and his shoulder injury and the COVID protocols but a dent in his performance down the stretch. Carl Lawson, who showed every sign of being the top-end edge rusher the Jets needed after signing him as an unrestricted free agent, went down in camp with his Achilles injury, and up-and-comer Bryce Huff missed half the season with injuries.
Williams said his shoulder is "OK, man, everything's going in the right direction," and said he's not having surgery.
Then the now-fourth-year pro did something else that leaders do, which is to mention his teammates in discussing the defense's future, and not his teammates along the front line.
"Guys like [CB Brandin] Echols, who had a phenomenal year as a rookie. He made a few mistakes here and there, but you can see he's grown a lot and got a lot of confidence," Williams said. "Guys like Bryce Hall, a good player who defnitely gained confidence from his rookie year. Guys like Quincy Williams [Quinnen's older brother, of course] coming in and having a 100-plus tackle season and making big plays here and there. And you've got guys like C.J. [Mosley], man, who's an all-pro and a great leader."
And like a budding leader himself, Williams didn't disclose the details but he explained what it will take for him and his defensive mates and his team to take that leap to the next level.
"I feel like this season is a steppingstone to going in the direction we want to be, with the right leadership and the right involvement to get to where we want to go," he said. "The main thing is to win football games, so whatever we can do as individuals this offseason to get ourselves in the best shape, the best form, the best ability to be the best we can be to help the team win games next year, that's what I think we should do. That's the main goal, to win football games."
See All of the Top Images from the Green & White's 2021 Season