Jets wide receiver Quincy Enunwa was disappointed with the receivers' performance in today's practice.
"Everybody was," Enunwa said. "We're striving for greatness. I know I was frustrated. Tuesday I came out, had a great day and today I didn't. I put that on myself, especially in the film room. I try to make sure that I can at least create a spark when things aren't going well like make a big play or hoot and holler. I have to do better and we as a group have to do better."
The offense had its largest install of camp so far, but the third-year pass catcher wants no excuses.
"I hate to say that we're young because we're all smart enough to know to come off an off-day with laser focus," he said. "You have to be hyper focused and know what's going on. You have to be ready for what's going on. Today was red zone, so it's one of those days where everything is going be fast and we weren't ready. It's frustrating as hell, I can't lie about that. But camp is where we learn, grow and I think we're going to go back, watch the film and see what we can learn from."
Coordinator John Morton makes sure the offense is accountable its their mistakes as players run laps for penalties after receiving an earful. As for the young receivers, "Welcome to the NFL," Enunwa said. The Nebraska product explained that the group can't make mistakes, especially in the red zone.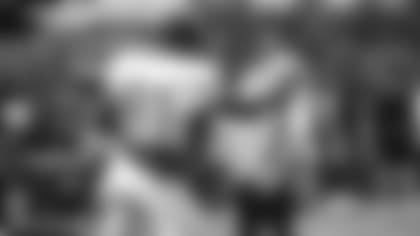 The 6'2", 225-pounder often tells his receiving counterparts to take Morton's messages with a grain of salt because he's showing he cares.
"I'm very high on us. I think through camp you'll see guys make plays that don't have big names or haven't made a lot of plays in the NFL," Enunwa said. "The past few days they've made plays and that's encouraging to us. That's one thing I try to coach these guys on — consistency. It's not about what you've done for me now, it's what you continue to do throughout camp and the season. We have to make sure we keep consistently getting better, not one good day and one off day."