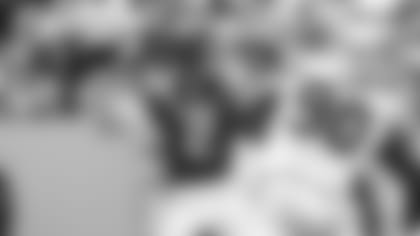 Zach Wilson's first start as a full-fledged regular-season NFL quarterback had its fits and starts.
His completed two of his first 10 passes as a Jet for 42 yards and a 5.0 passer rating. One of the throws, into traffic, was intercepted.
His first half numbers improved slightly to 6-of-16 for 84 yards and a 29.2 rating. But no points on the big Bank of America Stadium scoreboard.
For the game he took six sacks, one very hard one in the fourth quarter — "I felt like I got hit by a truck for a second," he said — plus 10 total QB hits from the Panthers defenders.
But at no time did Wilson lose his nerve or his confidence.
"Really, it's just understanding that no matter what happens, you're always in the game," Wilson said in the Jets' Bank of America locker room following their close-comeback-but-no-cigar 19-14 loss to the Panthers today on opening day. "You've got to fight through adversity to make plays. Even when mistakes were made early in the game, you've got to keep moving on. You've got to make big plays in big-time moments."
Wilson did just that in the second half as he climbed off the Panthers' new FieldTurf surface. The big plays he made — in conjunction with WR Corey Davis — were a pair of strong touchdown strikes to his new No. 1 wideout and new favorite receiver. The second one, a rope to Davis on a 1-on-1 end zone out route, cut the Jets' deficit to the final score of 19-14. The two-point conversion pass fell short and it was an unclimbable uphill battle for the Green & White from there.
But Davis finished with 97 yards on five catches, while Denzel Mims came on late and contributed a 40-yard catch and run when he was turned loose by the Panthers' pass defense to set up the second Davis score. Tight ends had six receptions.
And the second-half passing and drive numbers, certainly not hard evidence but still suggestive that Wilson makes quick improvements under fire, were impressive. In the final 30 minutes he completed 14 of 21 for 174 yards, including his two TD tosses, for a 123.9 rating. From zero touchdowns on six full first-half series, he upped the ante to two TDs on five second-half drives.
Head coach Robert Saleh, working his first game as the Jets head coach, saw the same qualities he saw in No. 2 during the offseason and preseason.
"He's only going to get better from this," Saleh said. "There were so many missed opportunities, even on his end, with regards to just letting it rip and getting the ball out. Even on his interception, he just didn't put the zip that he needed to put on it. The worst-case scenario, the corner was in great shape, he probably would've batted it down anyway. But he tossed up a lollipop. So a lot of great things for him to learn off of."
Two divergent issues came up in just that one hard sack by DT Derrick Brown. One was how well Wilson took the hit, held onto the ball, bounced up, and completed two more passes for the second score. The other was the protection, which left Wilson under the gun too often.
"I saw the same thing he's shown on his college tape," Saleh said of the Wilson toughness on that play. "The kid's been hit before, he took some shots today, obviously. But he got back up, he showed resolve, and he's fearless, he really is."
And Wilson, being that fearless competitor as well as the newly minted rookie offensive captain, wasn't ready to hang the protection problems just on one unit.
"Yeah, the neck's a little sore, a little whiplash, but it'll be all right," the QB said. "We've got a great O-line. They're going to go back, they're going to do their thing and they're going to get better this week in practice, and we're going to make it work."
What also would've helped make the Jets work more efficiently was a ground game, but that, too scuffled to the tune of 45 yards on 17 carries. Yet again Wilson provided positive spin.
"Nah, I wouldn't say disappointed," he said. "I've got all the faith and trust in the world in our run game, our scheme, everything we're doing. I think the run game came down to the little details as well."
So the Jets will go about absorbing their rough first half, their rebound in the second half, and their flight back to North Jersey to rest up and get ready for another test of their young quarterback and his youthful surrounding cast in their home opener against none less than the New England Patriots.
Wilson has unshakable confidence in his teammates, and his teammates in him. Linebacker C.J. Mosley was asked about him and gave a very nice report card.
"I'll tell you what, Two's going to win a lot of games for us," Mosley said. "It takes a lot to sit in that pocket, to have all the pressure and all the looks that he was getting, from what I saw, and for him to make some big-time throws to try to get us back in that game, I have a lot of respect for him."
"We're still really excited about him," Saleh concluded. "I believe we've got a good one."