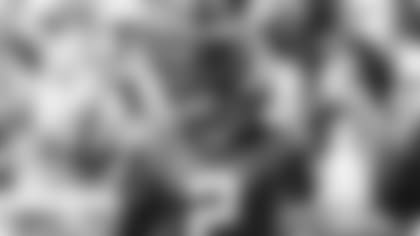 The Jets' rookie quarterback Zach Wilson said that he's learning everyday ... and one thing he learned during practice on Wednesday at the Atlantic Health Jets Training Facility is that trying to zip a pass past the right ear of linebacker C.J. Mosley might not be the best idea.
"For sure taking care of the ball is 100 percent the quarterback's job," Wilson, who threw only three interceptions at BYU last season, told reporters after the team's practice. "One of my goals when I got drafted was how can I adapt to the NFL game as quickly as I can. But I can't be afraid to make mistakes, especially in practice where I'm learning what I can get away with and what I can't. At times it's let me try this here and see what I can get away with. In that situation today, C.J. got a hand on it. In that situation next time I will check down."
For the past two days, head coach Robert Saleh has expressed his unequivocal support for his rookie QB, who was taken No. 2 overall in this year's NFL Draft. Saleh has a unique approach, allowing his positional coaches to do the heavy lifting as he takes it all in.
"He's in great space mentally, learning every single day," Saleh said on Wednesday. "He was tested again today, seeing if can get a throw behind C.J.'s right ear. He couldn't do it. He's in such a great place. I love how he performed in the red zone. We challenged him mentally and he had to make a quick decision. He's taking it all in. I'm really excited about where he's at."
Since he arrived at One Jets Drive, first for OTAs, then minicamp and now training camp, Wilson has been like a sponge. He pores over the playbook and is a self-processed film nerd. Though his time with Saleh is more about the big picture, Wilson is clearly comfortable and eager to learn.
"The reason I go to Coach Saleh is to talk ball, I want to know the differences in coverages from college and in the NFL," Wilson said. "I want to know what I think I need to do to adapt to the NFL game. I love talking ball [with him] and he's got some great insights. He's a supersmart guy."
For his part, Saleh is more engaged in the big picture, leaving his coordinators and staff to get in the weeds with the players.
"My interaction with Zach? He asks a lot of questions about scheme and I do all I can to help," Saleh said. "But I don't want to mess with the quarterback. I tell him to listen to Mike [OC Mike LaFleur]. I believe in one voice. My interaction with Zach and every player is whatever I can do to help you get to where you need. I'm available, but mostly to talk about scheme philosophy and life in general."
Wilson is looking ahead to Saturday's preseason opener against the Giants, then to next week's joint practices with the Packers in Green Bay, WI, and a chance to watch and chat with veteran QB Aaron Rodgers. But the rookie is also taking a glance over his shoulder to last week's Green & White Practice. He's said all week that he was not happy with his first performance on the turf at MetLife Stadium.
"One-hundred percent I'm hard on myself, even on a good day," Wilson said. "I expect so much out of myself, but it's a process of what can I learn today and apply tomorrow? It's about being accountable. When I'm holding the ball, I'm holding it for all 11 guys on the field. It's about trust, accountability. There were some plays I want back. But every play we made, good or bad, was awesome.
"Now I'm excited to get back into a season. It's crazy how fast it flies by, from college to preparing now for my first preseason game. I'm learning a lot and it's time to learn more."
There is learning in games and there is learning in practice. And it's in practice that Wilson and Saleh said some observers get the wrong idea and make rash, inaccurate judgments.
"We're not competing to win a game or anything in practice," Wilson said. "There are different situations we prepare for. We're practicing repetition in all different situations. You can't really grade stats like TDs or how many yards. Each play is what we're grading. You don't look at the whole practice, it's how did I do on some plays and how can we get better."
He added: "I think I really learned the ups and downs of the journey playing quarterback at BYU. I'm learning what's supposed to be and I'm learning to ignore the outside noise."
In his press conference after Tuesday's practice, Saleh sought to set the record straight on Wilson's growth in practice.
"He's awesome," the coach said. "He asks questions, he's in the defensive coordinator's office asking questions about scheme. And he's an absolute sponge learning from mistakes, he's trying stuff. A lot of stuff you see is he's testing what he can and can't get away with, which I think is awesome.
"The kid's going to be fine. He's going through a process and what I love about it is he's deliberate in his process and how he's trying to find ways to get better. He's focused on getting himself ready to be the best quarterback in the league and we're all in love with his process.
"His process is exactly where we want it to be, his study habits are exactly where we want it to be, his demeanor on the practice field is exactly where we want it to be. But the result is, that's a pacifier to make people happy. He's going in the direction that he needs to go. He's got the right mindset; he's doing everything that he needs to do and when it clicks it clicks."