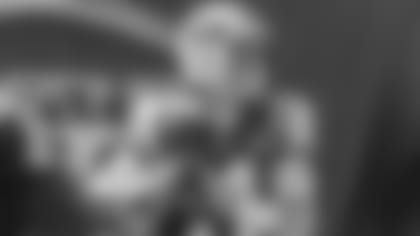 A pick-six on the game's opening play is one thing, but a 20-0 deficit is something altogether. Jets rookie quarterback Sam Darnold threw for more yards than any rookie quarterback in franchise history Sunday, but the offense had too many miscues and didn't score enough points in a 20-12 loss to the Dolphins.
Six days after settling down in a 48-17 triumph over the Lions in Detroit, Darnold was victimized by a pair of interceptions including one in the red zone when it appeared the Jets were ready to seize momentum away from the Dolphins. He was also fantastic at times, completing 61% of his passes for 334 yards.
After Darnold led a scoring drive to open the second half and his 28-yard scoring toss to Bilal Powell cut the deficit to 20-6, he promptly got the ball back from his defense at the Miami 12. But on the very next play, cornerback Xavier Howard intercepted Darnold's throw intended for Terrelle Pryor and the Jets came away with no points.
"I just have to go about my reads a little bit differently," Darnold said. "Obviously those are ones you wish to have back, the ones right after a turnover. You get it with a short field and we get it in the red zone and those are ones you have to capitalize on. To give it right back to them hurt a little bit. Again, I wish I had that one back, but I'm going to watch the tape and see where I can learn."
On an afternoon when Darnold had plenty of bright moments, he and the Jets couldn't overcome their own shortcomings. In the first half, the Jets often faced poor field position and weren't able to flip the field. And the game's tenor changed on a pair of giveaways that put the Jets in a hole they could never dig all the way out of.
Darnold locked in on wideout Quincy Enunwa (7-92) on the Jets' second possession of the opening stanza,. Veteran safety T.J. McDonald read the play and neatly dropped into his zone for the game's first takeaway and his 31-yard return set up the game's first score.
It was just a 7-0 contest midway through the second quarter when the rookie passer started to get hot. He threw an excellent pass on the run to Robby Anderson for 17 yards and then bought time before picking up 12 on a strike to Enunwa over the middle. Then he did a great job in the pocket, buying time on a toss up the home sideline to Anderson. But Anderson lost a fumble and Darnold would soon be in a 14-0 hole when Albert Wilson had a 29-yard scoring reception.
The half ended in frustrating fashion for the home club. Down 20-0, Darnold got the Jets in scoring position on a 44-yard catch-and-run to Terrelle Pryor. But with 10 seconds left in the half and with no timeouts, the USC product threw to rookie Chris Herndon and the first-year tight end was stonewalled at the two-yard-line. Despite throwing for 161 yards in the first half, Darnold had nothing to show for his work.
"I knew we didn't have any timeouts," Darnold said of the Herndon effort. "I knew if we got it to him and they tackled him in bounds that we weren't going to get a play off. I tried to get it to him and thought, 'Let's go get a touchdown.' I didn't have any doubt in Chris and his ability to score. T.J. (McDonald) made a great play."
The Jets had three scoring possessions in the second half, but two of them ended with Jason Myers' field goals. Prior to Myers' 55-yarder that made it 20-9, the offense had back-to-back false starts after Darnold converted a third-and-15 with a 18-yarder to Pryor. The consistency was not there on a day Jets Nation wanted to celebrate its young talent and their team.
"I'm not saying he played a great game. I'm not saying he played a bad game," said head coach Todd Bowles. "You want to take care of the football obviously. That's important at the quarterback position. Whether you're young or old, you want to take care of the football. It's not just Sam. Like I said, we didn't play well and we didn't coach well."