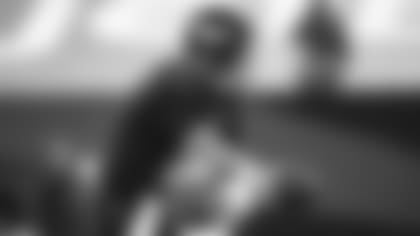 In May, it seemed like a decent idea for the Jets: Sign former Super Bowl winner and long-time Baltimore Raven Joe Flacco as a backup quarterback, just in case he were ever needed to come into a 2020 game for an injured Sam Darnold.
This week the idea has become reality. Head coach Adam Gase announced at his Wednesday midday news conference that Flacco will start for Darnold, who sprained his right throwing shoulder late in the first quarter of Thursday night's game against Denver at MetLife Stadium.
"Joe will start this week and Sam will be out," Gase said at the top of his remarks to the media. "We went through our process, our doctors, second opinions, just making sure we do the right thing for the immediate future and long-term. [Sam is] really going to be week-to-week right now. That was really what we were told by the doctors. Let's see how he feels after this week of rest."
Gase said the offense won't change with Flacco stepping in for Darnold and that he was pleased with how Flacco handled his short exposure with the offense vs. the Broncos. And Flacco said he feels "pretty comfortable at this point" with calling Gase's offense vs. the Cards.
"I thought [Joe] did a good job going in there, considering he worked the whole week with a couple days of walkthroughs," the coach said. "It was the first time he's actually been in a game and got a play call from me — that was a first. I thought he did a good job. Joe's as calm as you can get. He's had a lot of experience. We'll see how everything goes."
"There's a lot of uncertainty about what you're hearing and what's going to happen," Flacco said after practice. "But it was awesome to get that first day under my belt and it felt good, I felt like I was back under center and all those things."
Flacco hasn't started a game of any kind since he hurt his neck almost a year ago, in the Broncos' eighth game of 2019, at Indianapolis on Oct. 27. He had been rehabbing the neck after April surgery for a herniated disc. He returned to limited practice before the season opener at Buffalo, then improved to full participation the week before the Jets played the Colts, although he was inactive for that game.
Flacco finally saw action after Darnold was thrown hard to the MetLife turf on a sack by Broncos LB A.J. Johnson with 59 seconds left in the first quarter. The 13th-year veteran was on the field for four scrimmage plays over part of two series that included two passes, a pair of completions to first-year WR Jeff Smith for 16 yards. Darnold then returned and played the rest of the game.
The day after the game, Gase said Darnold "doesn't feel great today." By Monday, Darnold told reporters, "I feel good. ... I'm excited to see where my progress is come Wednesday and we'll see what we do there."
Gase said Wednesday the team's medical staff were not worried about further damage to Darnold's shoulder in clearing his return vs. Denver. Now, the coach said, "It would be hard for him to go practice this week. We just want to be smart with him, get him feeling better."
Flacco anticipated being ready to contribute on the field sometime early in the season but said in May after he signed with the Jets that he had temporarily moved from NFL starter to a new assignment with the Green & White.
"I obviously still believe I'm a starting quarterback. You never know what three years down the line is going to look like," he said then. "So I still have that confidence and the want-to to do that. But at this moment, that's not my role. My role is to help the team get better and to help a young quarterback see things as clearly as possible and help him on his journey to being a longtime NFL quarterback."
Then before the Broncos game, Flacco said even though he was practicing full-go, "You don't want to rush something in the last hour. I've taken time and I feel really good, but I want to make sure I've got my feet underneath me. As much as I want to make that decision on my own, it's one of those things where you have to rely on some other people sometimes."
Flacco was in fact the first backup to Darnold on Thursday and circumstances dictated it was time to play. After 187 games played for Baltimore and Denver since 2008, all of them starts, his early relief appearance vs. Denver was the first non-starting appearance of his NFL career.
And on Sunday he'll be in line to become the oldest QB, at 35 years, 268 days, to start his first game for the Jets in a non-opening-day game. The three older starters — Butch Songin in 1962, Brett Favre in 2008 and Josh McCown in '17 — all were 38 years old when they made their first Titans/Jets starts, all on opening day. Three other QBs were 34 years old when they made their first starts for the Jets, all in-season — Frank Reich in 1996, Vinny Testaverde in '98 and Michael Vick in 2014.
And the unflappable Flacco is ready to go for however long he's called on to run the Green & White offense.
"It was obviously frustrating and boring to sit around during training camp and not really be able to practice, even though I felt like I could do a lot of the things that we were doing," he said. "So just to get out there and practice today was a lot of fun. You feel like a little kid again. just coming out there and playing football.
"So I'm just taking it day by day, trying to keep myself calm but to make sure you want that excitement to show through a lit bit. I'm not sure that anybody can necessarily ever see that in myself. But it's definitely there."