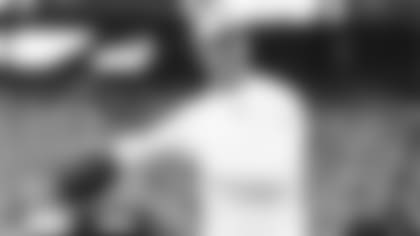 Jets head coach Robert Saleh made it official on Tuesday morning: Aaron Rodgers will make his debut for the Green & White in Saturday's preseason finale against the Giants at MetLife Stadium
"For us as an organization, he's new, though he's been in the league a long time," Saleh told reporters. "We didn't want Sept. 11 [the Monday night regular-season opener against visiting Buffalo] to be the first time he stepped into MetLife. Giants-Jets, whether in the preseason or regular season, we expect a good turnout and anticipation in the building. We didn't want his first time in new team colors, with new teammates and in a new stadium to be on Sept. 11 for the first time."
Rodgers last appeared in a preseason game in 2018 when he was player for the Green Bay Packers, and though he has been a part of the team since voluntary offseason workouts, it will be his first time wearing his No. 8 Jets jersey in game action.
"You can't coach scared, you can't play scared," Saleh said. "You can slip getting out of the car and have something happen to you. Knock on wood, it will be fine. It's not uncommon [to play first string in the preseason], you can always play the hindsight, fearful game. It's in the best interest of our team to go out together and prepare for the season."
Saleh added that Mekhi Becton will see increased play at right tackle after having played half of the offensive snaps last week against Tampa Bay.
"He's shown a lot of energy," Saleh said. "He loved being out there finishing blocks, showing strength, power, movement. There's still a lot to clean up, but he showed a lot of little things, pregame language, his voice, bounce in his step, sideline demeanor, locker room demeanor. All improving so much, will be fun to see how it all works."
In addition to Rodgers making his preseason debut, Saleh said that he hopes offensive linemen Alijah Vera-Tucker and Laken Tomlinson would take some snaps on Saturday night. Newly signed running back RB Dalvin Cook will not play, neither will RB Breece Hall.
Saleh added that rookie OL Joe Tippmann (knee), RB Israel Abanikanda (thigh) and TE Kenny Yeboah (hamstring) will miss the game, but should be ready for the start of the regular season. DE Carl Lawson will miss the game dealing with a back injury and OL Duane Brown is in Houston having his shoulder evaluated. Finally, WR Corey Davis continues to deal with a "personal issue," Saleh said.