Sheldon Richardson is often the man who gets overlooked up front. Leonard Williams is a budding star and Muhammad Wilkerson is feeling better after playing through pain last season, but Richardson remains one of the most unique talents on the entire roster.
"He's in a good place. Obviously he worked hard all offseason," said head coach Todd Bowles following the Jets second practice of camp. "He's in a good place and he's healthy. He doesn't have any nicks bothering him and he came in ready to go. You have to love the way he comes in. He's inspiring a lot of people, his running test was outstanding and we're just looking forward to him getting better and better."
Bowles went on to say that Richardson is in a "peaceful place." All three of the Jets quarterbacks were often under duress in team drills Sunday and Richardson, who is entering his fifth season, is an interior player that consistently gets a good push.
"I always talk about it with people that it's sad that I'm one of the older guys now. I take it with a grain of salt," said the 26-year-old Richardson. "If guys ask questions, then I'll have answers for them. If I don't, then I'll tell them to go to a person that I think would have the answer for them. Personally, leadership wise, I try to keep the guys going. It just started, but that's what I'm here for."
While helping some of the younger players, the 6'3", 294-pound Richardson is also pleased he added up a new mentor in defensive line assistant La'Roi Glover. In 13 NFL seasons, Glover racked up 83.5 QB sacks and was a four-time All-Pro.
"He won't show me his film right now. I don't know why, but I'm trying to learn some more from him," Richardson said. "Little tidbits that made him a great defensive lineman when he was playing here and there. And he's one of the guys too."
QB Rotation RemainsJosh McCown was again followed by Christian Hackenberg and Bryce Petty. They each had their moments and there were no turnovers in team drills, but the signal callers sometimes faced blanketed coverage as the pressure engulfed them. Hackenberg showed moxie on a pump fake to Quincy Enunwa that allowed the receiver to get space and make a play down the field. Petty had a gorgeous back-shoulder toss to Myles White down the sideline.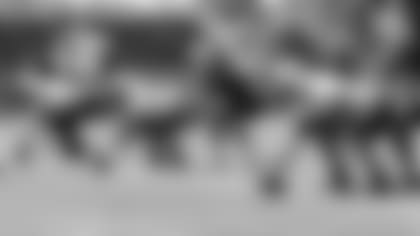 Claiborne Excused After a sensational opening day, Morris Claiborne was absent from the practice field. Bowles said the former Cowboy was excused for personal reasons and will return to action Monday. With Claiborne out, second-year CB Juston Burris received a lot of reps with the first unit defense.
Injury UpdateVeteran T Ben Ijalana (knee) saw limited work in team drills, opening up at left tackle. Rookie wideouts ArDarius Stewart (thumb/groin) and Chad Hansen (knee) were again limited to individuals while DB Corey White did not practice after tweaking his back.
Et CeteraBowles raved about the maturity level of rookie safeties Jamal Adams and Marcus Maye, saying the pair exceeded the team's expectations in the spring… Rookie OLB Dylan Donahue dropped at least 20 yards down the field in order to break up a Hackenberg pass intended for rookie TE Jordan Leggett…Third-year player Chris Harper has been active, hauling in a number of balls this weekend…*After two sessions without pads, the Jets will have all their gear on tomorrow for the first time in 2017. *"It's good because that's when camp really starts," Bowles said.