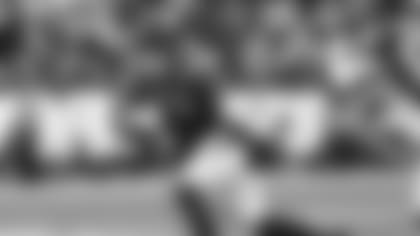 On the DBs side of the MetLife Stadium locker room late Sunday afternoon, Brian Poole was chatting about the Jets defense continuing to come together with their 34-3 win over the Raiders, and, of course, his role in producing all those points.
"Yeah, that's my first pick-six as a pro," the cornerback said about his third-quarter 15-yard interception-return touchdown after LB Neville Hewitt's pass defense popped the ball up in the air. "I was pretty excited to see the ball there. Definitely I've got to take him to dinner."
Across the room, on the LBs side, Jordan Jenkins was giving his own take on the Jets' recent growth spurt and his old friend's six-point success. That is until the subject of the opening-day safety against Buffalo came up.
Poole and Jenkins are still both listed on the official play-by-play as being in on the tackle of Bills RB Frank Gore at the goal line. But in the awarding of points on the play, only Poole got credit. The Elias Sports Bureau and the NFL may split sacks but they don't give out single points on safeties to different defenders.
"Yeah, I was aware," Poole said when asked if he knew he got the two points on the September safety. And when it was mentioned that he's only the second Jets defender ever to have scored a TD and a safety in the same season (Bobby Humphery was the other in 1986), he agreed that he could be an offensive force on this defense: "Yeah, I guess you could say that."
Jenkins hadn't heard about the safety points going to Poole until Sunday.
"Wow. I'm going to go talk to the league about that," Jenkins said with mock concern. "I was in there, he was moving forward still until I came in and wrapped him up. Let me get that one point, because I've never scored at any point of football. I've been a lineman my entire life. I started out at right guard and nose guard, in middle school I was right defensive end and right tackle, then I got to high school and was defensive end and right tackle."
Jenkins was just trash-talking with his friend, of course. They actually go way back, at least as far back as the beginning of this decade.
"Oh, yeah, me, Poole, Leo [Williams], Marcus Maye — we've known each other since 2010 with all the recruiting visits we had. Leo was committed to Florida, and it was Maye and Poole, all three of them there. They all tried to get me to go to Florida," said Jenkins, who wound up at Georgia. "When I got here, Leo said, 'What's up, Florida back together again.' Then Maye got drafted here and now Poole. It's almost like a reunion. It's a good feeling."
Williams was traded to the Giants last month but the other three are providing some of the foundation for the defense's recent surge — tied for eighth in the league in total yards allowed/game (the Jets' highest ranking this late in the season since 2015), first in run defense, up to 19th in pass defense (their highest ranking since after that Bills game) and 20th in scoring defense (highest in the last eight weeks).
"We're a younger unit that's definitely going in the right direction," said Poole. "The last couple of weeks we've definitely been making strides.
"It definitely feels good," Jenkins said of the Jets' win streak. "I said before the game, if we get three in a row, the turkey's going to taste good on Thanksgiving."
But Jenkins wasn't quite ready to declare Poole the new offensive defender on the Jets.
"Nope, not going to wish him well at all," he said.
In a Turkey Day brotherly rivalry kind of way.